Kristin Ess Shampoo Review
Kristin Ess Temporary Tint Review

Rose gold has been gaining popularity in recent years. The Temporary Tint is a great way to give your hair a rosy tint without having to commit to a long time. This product can be considered your weekend getaway.
This innovative product is the "first ever to be used in-shower watercolor." It gives a rose tone to blonde hair. The best part? The level of color intensity is entirely up to you. Spray it on your damp hair to give it a more lasting color. If you apply it on wet hair, it'll give off more of a subtle vibe and will fade faster.
This product should be available in just 1-3 washes. This Temporary Tint can be purchased for $12.
Kristin Ess Bubble Mask

Now this sounded like it might be a bit of a novelty product, in the fact that it crackles and pops on your scalp as you apply it. But I had a few minutes to decide whether to grab it or put it back one evening in Target. It was a great decision. You've probably already seen my Sephora Miami Haul Blog Post. I bought the new OUAI After Sun Body Soother because of the same reasons. This bubble mask is not a novelty.
A travel-sized bottle of Tresemme Keratin Smooth shampoo was taken with me. And it was rather harsh on my scalp, to say the least, over the week or so that I was away. When I returned home, my scalp needed some extra TLC. This was something I wanted to test so I did. Apply this product to your scalp before taking a hot shower. Then wash it off. After just one wash my scalp felt a whole lot less itchy. And the smell! Well the smell, along with the rest of Kristin's haircare line, is just unreal! I can't get enough of it! It's a beautiful scent and I hope she will release it one day as a perfume in a similar way to OUAI.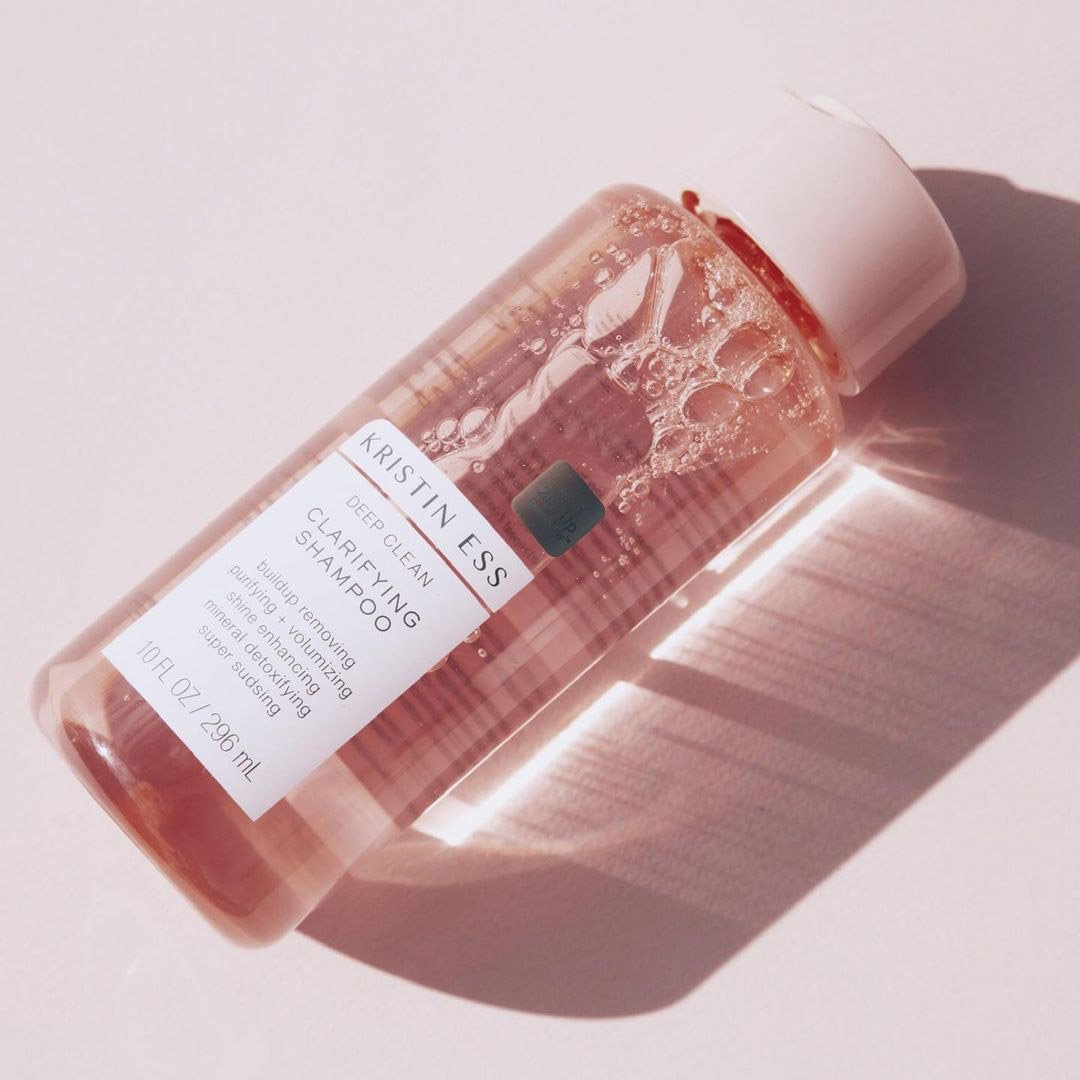 Kristin Ess Enhance Color Review

Kristin Ess Signature Hair Gloss is a topcoat which can tone and tint your hair regardless of its color. These glosses are silicone-free, ammonia-free, and color and keratin safe. It is also fragrance-free and won't leave a lingering smell after you rinse.
You can use each gloss once and it will stay on your hair for between 3-4 weeks depending on how frequently you wash your hair. It will prolong the life of colored hair and make it easier to maintain your color. These are the steps to follow:
Pour bottle two into bottle one
Give it a good shake.
Use to apply to damp hair
If you desire subtle results, leave it on for 10 minutes
Leave on for an additional 10 minutes for more dramatic results
Wash your hair and then rinse it out.
You'll see a difference in your hair tone and locks will look brighter. Each Signature Hair Gloss is $14 But if you subscribe to a 1, 2, 4, or 6-month subscription, you can save 10%. You'll also get free shipping
This Kristin Ess shampoo reviews will then cover Kristin's top-selling hair products. This review will let you know which gloss is right for you and what results you can expect.
Smells Amazing, But Dries Out Hair Like Crazy!

Although I was aware of the negative reviews about how it dries hair out, I ignored them. The scent was soooo amazing, unlike anything I have ever smelled in a shampoo. Admittedly also, I am a sucker for nice packaging. To be clear, my hair is thin and 2B with blonde highlights. Although the product was very well-lathered and smelled amazing, my hair felt dry after I had rinsed it out. That has never happened to me before! I followed with the conditioner, and when I went to brush my hair, I couldn't even get through it because of all the knots and dryness. My hair looks better than ever since I used the blow dryer mist. I decided to stick with it for 3 weeks, just to see if it got better. The product really caused hair damage, and my ends began to shrivel up. It smells wonderful and lasts for several days, which is great. However, it will completely dry your hair.
Does Kristin Ess Hair Gloss Dye Your Hair?

No, this product does not directly dye your hair. The purpose of the Kristin Ess Hair Gloss is to instantly boost your hair's vibrancy and extend your dye job by toning and adding radiance to your locks.
What is toner, exactly? Toner is a product which adjusts your hair's tone. of your hair. The Platinum option, for example, gives blondes with very dark hair a white boost and conceals yellows or oranges. The Copper Penny bottle, on the other hand will add a warm golden glow to light and medium hair.
There are 12 color options available to customers, as well as a one-color option. The latter product will provide shine, luster, and a healthy-looking appearance to your mane. The Kristin Ess Glosses are designed to revitalize your hair and keep your color looking fresh between appointments.
There are many products offered by the company. The company sells everything you need for your hair, from shampoos and hot tools to complete your look. What's the best thing? All products are available at an affordable price. The Kristin Ess shampoo reviews will take a closer look at some of the top-selling products.
Kristin Ess Color Depositing Conditioner – Coral Rose Review

Calling all you (blonde) commitment-phobes. You can add a rosey color to your hair without using long-lasting dye. Well, the Depositing Conditioner – Coral Rose can do just that. This conditioner provides light color to your hair.
Hop in the shower and follow these steps for a more subtle effect:
Wash your hair with your shampoo of choice (a clarifying product is best)
Wearing gloves, apply the product to your damp hair and work through to completely coat
Allow it to sit for between 5-10 minutes
Rinse, ensuring to get out all of the product
For more intense color, the Depositing Conditioner can be applied to dry hair instead. As it fades, it'll shift to a more pink hue. How long the color lasts depends on your unique hair composition and how often you wash your hair.
All shades of this conditioner are free of harmful agents such as peroxide. Temporarily change your look with the Depositing Conditioner – Coral Rose (6.7 fl oz) for $14.
Warning Absolutely Dont Use!! !

1
If you read any reviews please please read this one!! I was given this shampoo and the matching conditioner as a gift and I was very excited because I believed this was supposed to be a great conditioner. It worked well at first. My hair sometimes gets oily and I no longer had oily hair at the end of the day but then I began to lose more hair than usual. I started losing HANDFULS at a given time. My hair was falling out so fast that I thought I'd go bald. My hair fell out due to stress and I decided to stop using the shampoo. I am still experiencing hair loss but slowly my hair is getting back to normal. This product is not recommended for anyone with thin hair. My hair was extremely thick, and I had to lose at least half my head. I don't know what this could have done if I had more hair! I am NEVER EVER using this brand or this product again!! !
Is Kristin Ess Worth It?

So, are Kristin Ess products good? To cut to the chase, yes, the brand is definitely worth trying. There are thousands of positive customer reviews across multiple platforms, with various reports that have confirmed each product's effectiveness.
From the products' pleasing scents and well-founded formulas to the brand's overall affordability, this Kristin Ess shampoo review has discovered more beneficial aspects about the brand than negative, which is why we recommend its shampoos, conditioners, treatments, and stylers.
Because they are sold at retailers such as Target and Amazon, Kristin Ess products are widely accessible, especially for international customers who can't access them directly from the brand's website. The price is a bargain for products with high-end functions.
A wide range of merchandise is also offered by the brand. It sells effective hair products as well as hair tools like the Kristin Ess Straightener.
This Kristin Ess Shampoo review concludes that professional products priced at drugstore prices are most likely to provide some value.
This Kristin Ess shampoo review found when subscribing to the company's online newsletter, you'll receive 10% off your first online order.
97 Cad)

The amount of powder it deposits on the hair is what I love about dry shampoos. Your hair will feel fresh and clean. If you do overdo it with shine products, the powder can be added to your hair.
Because my hair was so dry at the end 2017 I gave up on dry shampoo. Kristin Ess Dry Shampoo is a great alternative. The mist is so fine and lightweight which made made the application easy. The dry shampoo does not leave my hair feeling crunchy, or itchy on my scalp. The brand also recommends rubbing in or brushing out the product to avoid a white cast, but the product is translucent.
The first time I tried the Air Dry Creme I did it completely wrong. Thank goodness for this Dry Shampoo because I spritzed some of it onto the ends of my hair and my over-shine/greasiness problem was solved.
Dry Shampoo Style Revitalizing

When you first spray this one it comes out a wee bit wet; there are tiny droplets in your hair. I wait for it to dry then brush it out. It turns white once it is dry. When I'm done brushing my daughter's hair the hairbrush is full of little white powdery stuff. And if she's sitting on me, my lap is full of it too.
My daughter's hair was always my first to get the spray in. This way, I didn't know if it worked. One day when my husband was brushing my daughter's hair, she came to see me to put the "spray" in it because there was this huge knot in her hair. After I had sprayed it, she returned to her father. Afterwards, I asked him if it helped and he said "hell yeah!" He said he couldn't get through the knot, and after I put the dry conditioner in he had no problem getting through it.
This product is great for untangling hair.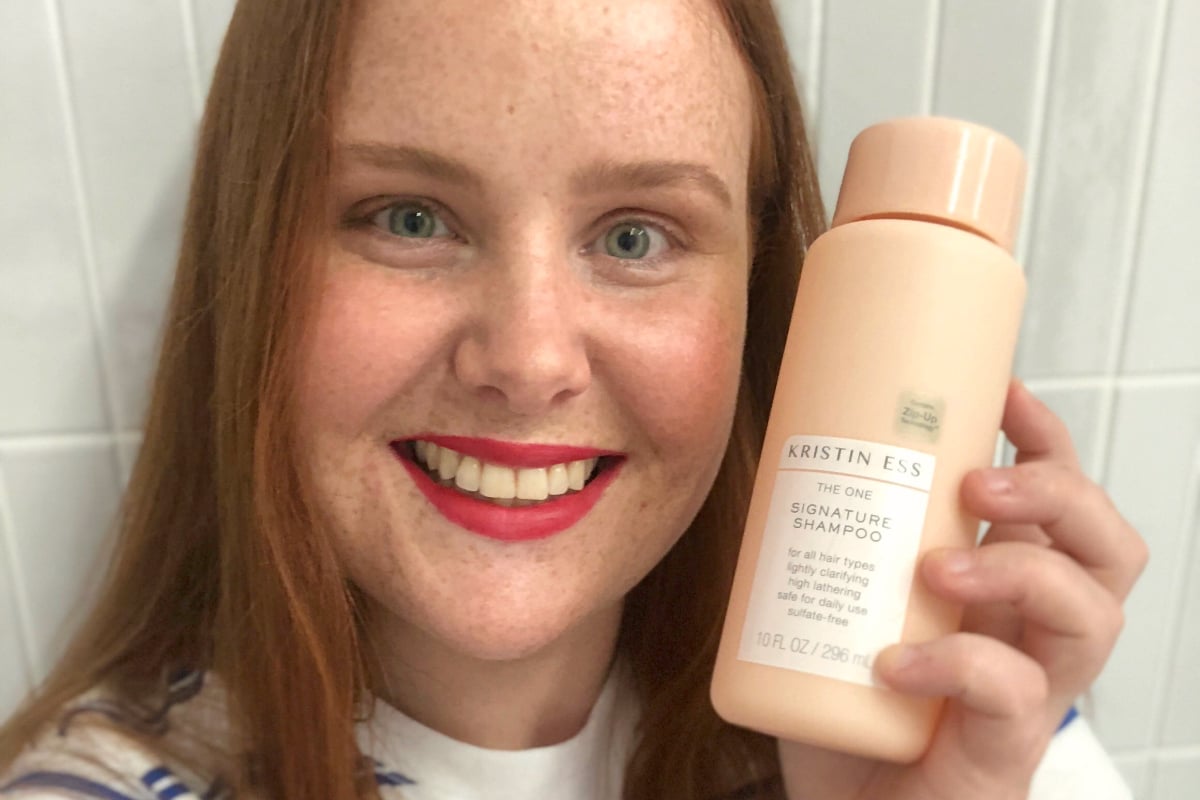 The hype

The Hills: Every millennial's favourite drama-packed MTV series that was packed to the rafters with make-ups, break-ups and Lauren Conrad's impeccable head of hair. My opinion is that the Hills are more famous than Jennifer Aniston. Anyone who has followed LC's Instagram account will see that she only trusted one woman to care for her hair since birth. Enter: Kristin Ess.
Kristin Ess, a celebrity hairstylist, colourist, social influencer and co-founder of thebeautydepartment.com, began with a simple idea: create an affordable collection of luxury haircare and styling products that would give everyone the chance to create 'modern, perfectly imperfect hair'.
With over twenty years of expertise as a top hairstylist and colourist, Kristin has developed a range of cleansers, conditioners, dry and wet stylers that we've all been waiting for since Justin Bobby left our TV screens.
As they launch in Boots, I was desperate to test out some of the signature range for myself in a desperate attempt to be more LC. The Kristin Ess hair The One Signature shampoo and conditioner, both PS11, was tried by me.
Kristin Ess Curl Defining Cream Review

Your life might be falling apart, but that doesn't mean your curls need to be. Curl Defining Cream keeps your curls looking great. This cream can help you define your curls with just the right amount of weight.
Simply work your way through the hair from root to tip. Next, shape your hair gently following the natural curl pattern. Air dry or diffuse your hair! For $14, embrace your curls by using the Curl Defining Cream (6.7 fl oz). Kristin Ess Texturing Paste will give your curls a little more body.
Overview Of Kristin Ess

So who exactly is Kristin Ess? Kristin Ess, the founder of this brand was a top-tier hairdresser and one of the most respected. She rose to notoriety after sharing her expertise with the masses on social media platforms like Pinterest.
Her goals quickly evolved into a desire to help everyone access high-quality hair care and styling products at home. Of course, there were already professional products available in shops, but they often came with too high a price tag for the average shopper.
She then founded the Kristin Ess Hair company in 2017. The 15-piece collection, which she launched in Target, sold extremely quickly. With 22 years experience in the hair industry, the visionary behind this brand knows the best products to achieve beautiful locks. Her customers clearly realized this, too.
Now, the company's mission remains the same: "create an affordable collection of luxury haircare and styling products that would give everyone the chance to create modern, perfectly-imperfect hair."
Now that you know a bit more about the brand and where it came from, this Kristin Ess shampoo review will look at some pros and cons.
My Experience Using The Kristin Ess $10 Shampoo And Conditioner:

The looks are irrelevant without a great formula. Thankfully, that doesn't seem to be a problem here. It's sulfate-free, lathers well, and can be used every day.
I found it to be very pleasant overall. It performs like a much more expensive line. My dry, unruly hair felt healthy and moisturized after using it, without any grimy product buildup or added weight. It looked shinier, felt smoother, and had fewer flyaways. It smells incredible.
The One Signature Shampoo and One Signature Conditioner ($10) are great for hair. And while I really only use the T3 BodyWaver as my main hot tool these days, my hair looked nicer on its own without any hot tool intervention. Even though sulfate-free formulas can fail at making hair feel both clean and moisturized, I didn't have that issue here. Having said that, my hair is a huge, thick mass. The hair has been dyed, but it is far dryer than greasy. If your hair is thin or fine and prone to oil, this may not work for you.
Even though it isn't anything extraordinary, the tips and tricks at the back make a nice touch. This is a personal touch that helps you distinguish between a product created by a stylist and one made by an inexplicable, anonymous team. Ess shared with Allure that she carried the entire line around for six months so she could use her products on every client. You'll appreciate Ess's specific advice and tips after 20 years styling hair. She is an expert on hair and products.
Comb & Clips

Because they are rose gold and so beautiful, I had to get her combs and clips. I love the comb, and it is my favorite way to clean your hair after it has dried. As for the clips, I have a love hate relationship with them. These clips are made of metal, and they have a tendency to pull hairs strands if not used properly. It is the best hairclip for me, who has thick hair. To style my hair and blowdry it, I often need several. These are powerful!
Wide Tooth Comb $8 and Do it All Sectioning Clips $5
Air Dry Creme

For curly haired individuals, this product works well. My hair has a little bit of wave and I really hoped this product would allow me to enjoy the full benefits of air drying my hair. Sadly, it really didn't. But, I will say it did not leave my hair crunchy or gross. So if you have decent curls, I'd say give this a try as it's hair smoothing and frizz calming!
Air Dry Creme 10
Extremely Dry

1
My scalp became very dry and flaky. My ends were rough and stiff. Not what I was expecting at all! Currently trying to return the moisture to my super dry hair! !
It's not a fan

2
My hair is thick and it never gets oily. I feel like this shampoo just did not cleanse my hair well. I also dislike the scent. Wanted to love it but it's just not for me.
Kristin Ess The One Signature Shampoo Review

A good shampoo does more than just cleanse your hair. As the foundation to a successful regimen, a good product can infuse moisture and shine into your locks. The ONE Signature Shampoo is a great product for this.
This versatile and effective shampoo is designed for all hair types. It's sulfate-free, paraben-free, and phthalate-free–basically all the gunk that can harm your hair. It has ingredients that wash without stripping and drying. Grab your $10 ONE Signature Shampoo and get in the shower.
Kristin Ess is good for oily hair?

Yes. This Kristin Ess shampoo review found that customers with oily hair report the brand's hair products to be some of the best for their scalp and hair, especially the Daily Cleansing Shampoo.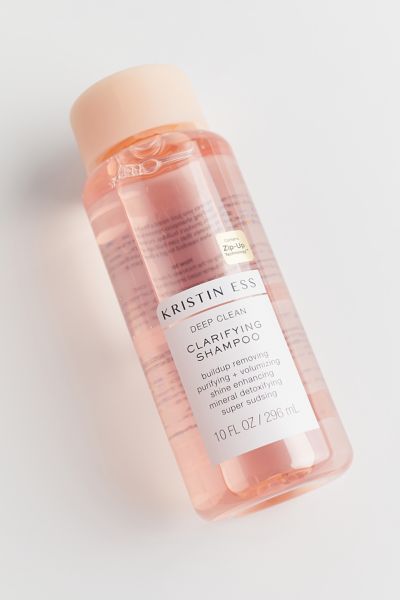 Beauty Bio

Although I am naturally brunette, I have been bleaching my hair blonde for many years. The lighter my color is the more dryer my hair gets. My hair curlers and straighteners are my addiction. I don't always remember to use heat protector sprays, so I often forget to. I'm looking for a nourishing shampoo that deeply conditions my frazzled ends, keeps frizz at bay and gives my hair a glossy shine. Are you asking too much?
Shampoo And Conditioner

5
It smells great to me. Leaves my hair feeling super soft and hydrated after using this and the conditioner. It honestly left my hair feeling better than some of the more expensive name brands I usually buy like redken and biolage. I'd definitely recommend!
Is Kristin Ess Safe?

Yes, Kristin Ess hair products are safe, and all shampoos and conditioners are color-safe, keratin-treatment safe, and free of sulfates. Before you place an order, you can see a complete list on each product page.
The company is committed to being cruelty-free and it doesn't test on animals during any stage of production. Additionally, it only works with vendors who value the same standards.
Hair loss

1
My hair began to fall out of clumps after about six weeks. After I discontinued use, my hair stopped falling out.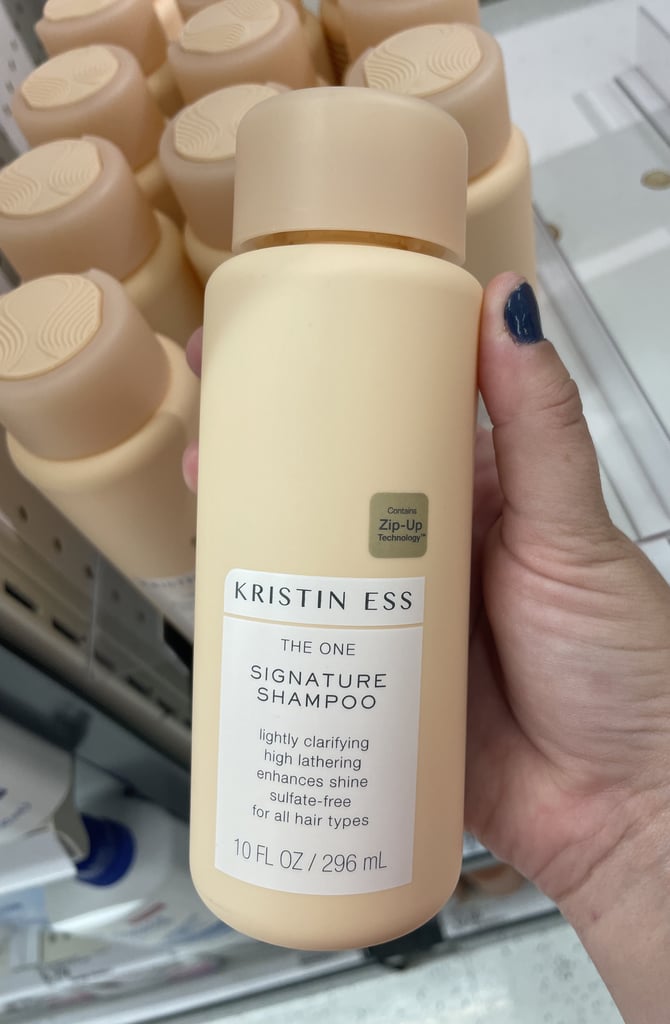 What Does Kristin Ess Smell Like?

According to customer reports, the brand's products smell like pear water, violet, sandalwood, and other notes, depending on the item. Customers love all scents.
Kristin Ess Shampoo Review
Kristin Ess Shampoo Review

Written By on September 8, 2021 Melina Brum We're independently supported by our readers and we may earn a commission when you buy through our links.
Kristin is on a mission: Kristin Ess wants to help make healthier hair possible. Each of the brand's shampoos, conditioners, and other hair care formulas is lightweight, buildable, and versatile you can choose to add one of its products into your regimen or replace your whole routine.
With over 550k Instagram followers, the company is a major force in the industry. Kristin is the founder of the company and a professional hairstylist for many celebrities, such as Lauren Conrad, Lucy Hale or Lili Reinhart. We can safely say that she has a lot of knowledge about hair.
This brand could be the new holy grail of effective, affordable beauty products. Kristin Eß shampoo reviews cover Kristin Ess formulas, customer opinions, and other important information to assist you in making that critical decision.
Kristin Ess: Overview The self-named brand's founder was at the top of her game as one of the most trusted hairstylists to the stars. She rose to notoriety after sharing her expertise with the masses on social media platforms like Pinterest.
Soon, her goal was to provide high-quality styling and hair care products for all. Although professional hair care products were readily available at shops, they could be too expensive for average shoppers.
Kristin Ess Hair Company was then established by she in 2017. Target launched her 15-piece range and it sold quickly. She has 22 years of industry experience, making her an expert in choosing the right products for beautiful hair. It was obvious to her customers, too.
Kristin Ess Scalp Purifying Microlar Shampoo

Kristin Ess Scalp purifying Micellar Shampoo I am not like most people who can simply pick up a new shampoo. Instead, I spent hours searching the aisles for one that would cleanse my locks without drying my scalp. I was thrilled to learn that Kristin, the queen of haircare products, had launched a line. Here is my review of her Scalp Purifying Micellar Shampoo.
This product is packaged by someone who has a lot of knowledge. This dark teal, squeezeable bottle has a pointed tip that makes it easy to directly apply the product to your scalp. On the back, you will find the instructions for how to use the product and all the ingredients.
Following the directions, I washed my hair and used the shampoo. I found the shampoo to be clear and ranny. It lathered well. It is easy to apply the shampoo evenly all over your scalp with the nozzle. While the shampoo did feel a bit heavy upon application, it was easily rinsed away. It smells light and coconut-scented.
The product is mixed in my opinion. Whilst it isn't as strong as a clarifying shampoo , it works well to remove a light layer of build-up. You can feel the moisturizing formula, especially for dry and thick hair. The biggest plus point is that it leaves the scalp feeling balanced and hydrated. If you have very fine hair or are sensitive to greasiness it may weigh your hair down. For a deep cleanse, I apply it to my hair once a week. My mane feels smoother and is less frizzy after I use it. But, once a months I like to apply a clarifying product on my scalp.
This inexpensive shampoo provides a moisturizing yet purifying treatment for your hair. Plus, it's the most chic-looking product in my shower caddy at the moment!
Prices: USD 12.00 Key Ingredients; Coconut Fruit Extract, Mango Seed Butter or Avocado Oil, Castor Oil, and Castor Oil.
Kristin Ess is good for hair?

Kristin ESs hair products have been tested for safety. Kristin Ess shampoos & conditioners are all color-safe, safe for keratin, and contain no sulfates. September 8, 2021
Kristin Ess Shampoo makes your hair feel greasy

I loved this product and wanted it to be great, but I didn't love it after trying it 42304 more times. The packaging states you can put this on your scalp to help moisturize it. I do not recommend this. Mar 1, 2019,
Kristin Ess Shampoo is Safe?

They're all cruelty-free, and the shampoos and conditioners are sulfate free, color safe, and keratin treatment safe. … Jan 31, 2017
Is Kristin Ess Good For Thick Hair?

I was surprised by the fact that it doesn't feel very thick. This is something I don't usually find with my thick, straight hair. It felt moisturizing and lightweight when I applied it, and it smells SO good! My hair was so soft the second morning, and it has remained that way ever since.
.Kristin Ess Shampoo Review