Blink Vs Arlo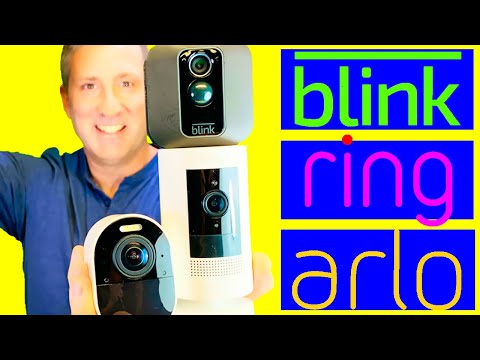 Blink Vs Arlo: Which Home Security System Is Best For You?
Blink or Arlo? That's a question many will be asking, particularly as Amazon Prime Day approaches, so we've created this guide to help you decided which is right for you. Blink – a home security brand owned by Amazon – provides inexpensive, easy-to-fit surveillance cameras for indoors and out. For a relatively small outlay you can cover your home with motion-sensing cameras and access the footage or a live stream through an app on your smartphone.
There's no monthly charge and the cameras are operated by standard batteries. Arlo is a direct competitor to Blink with a very similar motion-sensing camera system that also provides easy-to-install, battery powered cameras for inside and outside the home. Arlo also provides simple features without a monthly charge, allowing you to check the cameras remotely on your mobile. Arlo – owned by Netgear – is priced a little higher than Blink, but provides a broader device range and collection of features. Both systems are targeted at a large audience looking for an entry-level security camera solution for the home. Let's take a closer look at what sets them apart.
Blink Vs Arlo: Price
A single indoor camera system from Blink costs £79.99/$79.99 (around AU$145), and you can add additional cameras for £69.99/$69.99 (roughly AU$125) each, but you also have the option to purchase a five-camera system for £289.99/$279.99 (around AU$525). The Blink XT (or Blink XT2 if you're in the US), is the brand's outdoor weatherproof camera, which will cost you £99.99/$99.99 (around AU$180) for a single camera system, with additional cameras at £89.99/$89.99 (roughly AU$165) each,or a five-camera system for £399.99/$379.99 (around AU$725). Note the Blink XT2 has replaced the regular XT in the US and is expected to do the same in the UK later in 2019.
The two are identical, but the XT2 provides some enhancements, such as two-way audio and improved battery life. Blink systems come with a wireless hub, called a Blink Sync Module, and you can connect up to ten cameras to each module. There are no recurring payments. A single camera system from Arlo costs £129/$124/AU$287 for the cheapest entry-level camera, which can be used indoors or out, and you can add additional cameras for $74 / £80 (Australian availability appears limited) (Australian availability appears limited). A three-camera package of the simple entry-level camera will cost you £278.99/$199 (around AU$500). Arlo provides a much wider variety of different cameras including higher quality pro models, which are much more costly and include extra features.
Arlo also provides security lights, doorbells, and even a special baby monitoring camera to be added into the security mix. Arlo systems come with a wireless base station that links your cameras and a standard package is free, but only covers up to 5 cameras. The base station can accommodate up to 15 cameras, but that includes a Premier subscription which is £6.49/$9.99/AU$12.99 per month for up to 10 cameras, or an Elite subscription which is £9.99/$14.99/AU$18.99 per month for up to 20 cameras. These subscriptions also unlock additional features, detailed below, but if you have only one camera and want the extras you can get a simple Smart package for £1.99/$2.99/AU$3.99 per month.
Blink Vs Arlo: Types Of Camera And Equipment
Although Blink keeps it reasonably easy with indoor and outdoor cameras and some optional accessories, including mounts, Arlo provides a wide range of different cameras and other items. Blink's indoor camera has motion and temperature sensors, a built-in microphone, and records HD video at 720p. The outdoor, XT camera, adds infrared night vision, is weatherproof (IP65), and can capture HD video at up to 1080p, though it will record 720p by default. The Blink XT2 (only currently available in the US and Canada) adds two-way audio to the mix for talking with people bringing items to you, or barking like a dog at intruders.
The models come with two AA lithium batteries that give an estimated two year battery life – although the more advanced Blink XT2 would likely be hungrier on the power. The simple entry-level Netgear Arlo has motion sensors, is described as 'weatherproof', has infrared night vision, and records HD video at 720p. Every camera takes four Lithium CR123 batteries, which are supplied. The Arlo Pro adds two-way audio and a 100-decibel siren, along with a wider viewing range, USB drive support for local backups, and a rechargeable battery, but there's also the option to plug it in. However, the Arlo Pro is far more costly at £239.99/$249.99/AU439 for a single camera device. The new, Arlo Ultra , allows 4K shooting, improved night vision, zooming and tracking, and more, but starts at £449.99/$399.99/AU$449 for a single camera choice.
Blink Vs Arlo: Smart Home Features
As you'd expect for an Amazon business, the Blink cameras work with Alexa. This means you have the option of developing rules to hook your smart home devices together, meaning you might have motion detection in the cameras cause lights to come on in your home. Arlo is compatible with Alexa, but also with Google Home and Samsung SmartThings. This gives you more flexibility and choice of how you incorporate your security camera device. You might, for example, ask Google Assistant to show a live feed of your camera on your smart TV. Arlo also provides its own Arlo Security Light and doorbell for use inside your security network.
Blink Vs. Arlo
If you're searching for inexpensive home surveillance cameras that provide crisp photos, both Arlo and Blink are solid options to consider. Launched in 2016 as a Kickstarter project, Blink has quickly built a name for itself as a go-to in the home security space. It's known for low-priced cameras that are super easy to set up. In late 2017, the company, which is headquartered in Andover, Mass., was acquired by Amazon. Arlo Technologies, which is headquartered in San Jose, Calif., has been around a little longer. The company, which was established in 2014, was originally a division of Netgear. It split from Netgear in 2018.
Both companies offer attractive options for both indoor and outdoor cameras Blink XT vs. Arlo Pro is a common analogy people make but we think Arlo comes out ahead. Arlo provides more choices for both camera systems and storage options. Here is a deeper dive into what each company provides to help you determine for yourself which one could be right for your home.
Blink And Arlo: What Do They Have In Common?
Arlo and Blink cameras are both easy to mount and get up and running. Neither provides professional installation service, but most customers say that they're easy enough to DIY quickly. Both companies are known for providing high-quality images. They both offer HD-quality video and night vision features. Both Blink and Arlo offer affordable camera choices, but Blink's are the more affordable of the two. Both offer discounts when you buy several cameras at a time.
Neither Blink nor Arlo provides competent monitoring. You have to be able to take on tracking yourself if you want to use one of these cameras. You don't have to sign a contract to use Blink or Arlo. You pay for the cameras upfront, and the only extra cost is for an optional enhanced storage plan. Just note – these are not maximum security devices.
Blink And Arlo: What Are The Differences?
Most Blink cameras provide 7,200 seconds (2 hours) of video storage free, and there are no opportunities to buy additional storage for them. The only paid storage plans are for the current Blink Mini camera, which needs one. As of date of release, all Blink Mini customers get a free trial subscription plan that runs through December 31, 2020. After that, the standard plan, which requires 60 days of rolling storage and includes one camera, costs $3/month or $30/year, and their Plus plan costs $10/month or $100/year for coverage of all the cameras you own. Arlo provides a range of plans starting at $2.99/month that let users get more cloud storage, and others offer the ability to call 911 directly from the app if there's an emergency. Blink provides only three cameras to choose from.
If those suit your needs, fine. If, however, you want more choices to choose from, then Arlo is your business, as it provides an array of indoor and outdoor camera options, including wireless models and those that you plug into an electrical outlet. Monitoring Arlo cameras use your Wi-Fi to connect to your machine. The Arlo Go will connect via cellular service. The SmartThings hub can also be connected to the system for at least partial home automation. By installing the mobile app, you can track your device whenever you feel the need.
When the device is fully operating, you will be able to receive updates via email or text if an alert is activated. Arlo Smart plans allow you to choose the best choice for your needs. Arlo's Smart plan costs $2.99 per camera (30-day video history and custom activity zones), the Arlo Smart Premier is $9.99 a month for up to 10 cameras (30-day video history, custom activity zones, and e911 emergency call service) and the Arlo Smart Elite costs $14.99 a month and includes up to 20 cameras (60-day video history, custom activity zones, and e911 emergency call service) (60-day video history, custom activity zones, and e911 emergency call service). In order for Blink to work effectively, it needs to have a Wi-Fi connection. If you download the app, the device will warn you if any of the sensors are activated in any way.
This gives you the choice when it comes to notifying the authorities. Costs Arlo doesn't have arrangements or service agreements. Indoor and outdoor cameras with motion sensors built-in to the camera are some of their common choices. Cloud storage helps you to store 1000 hours of video. Arlo packages range in price from $200 to $400, depending on where you buy them. Additional cameras are available for about $200 each. The hub that comes with the device will accommodate multiple cameras making it easier to keep an eye on every corner of your home or property. Camera solutions include baby monitors, the Arlo Go, the Arlo Pro , and the Arlo Q.
There are no arrangements or long-term service deals with Blink. Blink provides the basic Blink camera and the Blink XT have motion sensors built into them. All devices are 100 percent wireless. Cameras record for less than one minute at a time. Blink cameras cost less than $80 apiece. The Blink hub can support up to 10 cameras allowing you to add more cameras if you feel it's necessary. Video Quality When it comes to video quality, I considered Arlo to be a little more "true to life" and with slightly more contrast. Blink struggled a little bit with overexposure at windows and night mode was black and white. Arlo night mode is in full color. Blink
Cameras With 4K Resolution
Among Blink and Arlo, the cams with the highest picture quality are the Arlo Ultra and the Arlo Pro 3. Both of these cameras are indoor / outdoor cameras with color night mode, optical zoom, and a very crisp picture quality.
Blink Does Not Offer Any Cameras With 4K Video Resolution.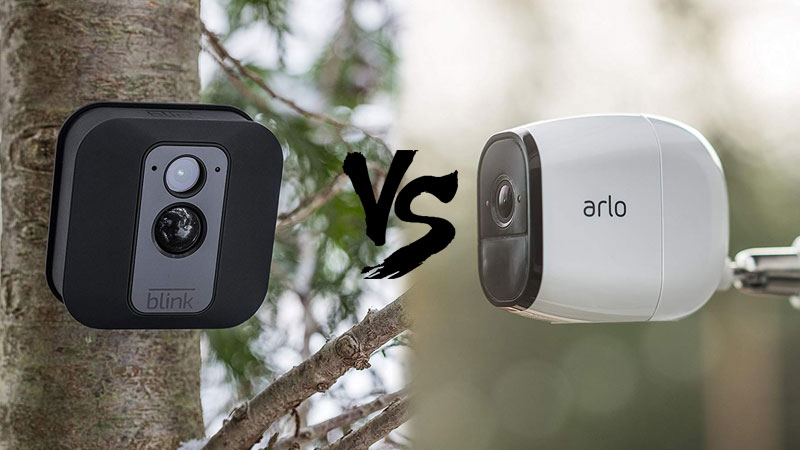 Arlo Ultra
Blink Vs. Alro Subscriptions
Some companies offer subscription plans to have access to additional features, usually that means more video storage. Arlo has a pretty regular tiered subscription, but what about Blink?
Well
The lack of a paid subscription does mean that you get free video storage on the Cloud, but the amount of storage is capped. If you want more than 120 minutes of video, Arlo could be a great choice if you opt for their free plan or paid subscription. Features Blink's cameras provide a range of approximately 100-feet from the hub and allow for 10 cameras to be synced to one hub. While video length and storage capabilities are limited, the quality of the video is sufficient to serve its function.
For outdoor footage, the Blink XT2 camera must be used. Cameras have built-in motion sensors Arlo provides both indoor and outdoor cameras and can be synced to other devices to provide 100 percent wireless service. Arlo also provides 24/7 surveillance services, though Blink does not. The Arlo cameras have built-in motion sensors built-in to detect irregular movement both inside and outside the house.