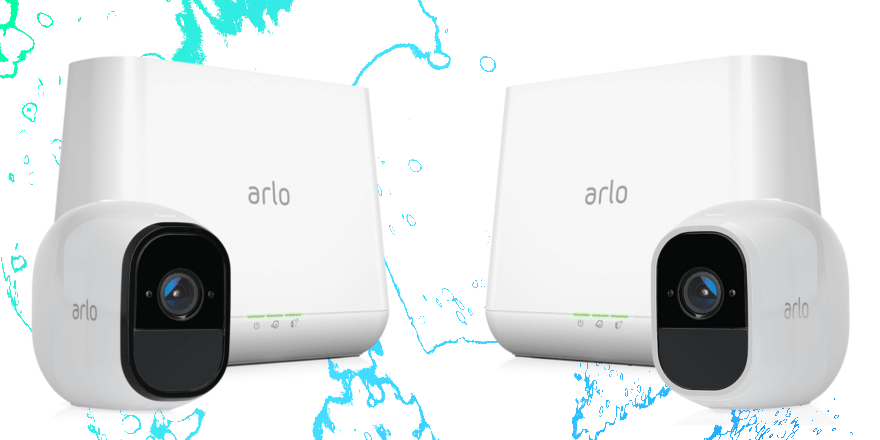 Both cameras operate with all of the Arlo base systems. You don't need to update the base unit to install newer model cameras. Both the Arlo Pro and the Arlo Pro 2 have two-way communication with speaker and microphone built-in. Both of the models I am looking at are weather-resistant so you can easily install them outdoors. They both have the ability to sound a siren from the base station from motion activation or manual activation.
Night Vision Capabilities
USB backup at the base station is available for both models in the event the network goes down. Seven days of cloud storage is available for free (Unless you opt for the paid continuous recording option of the Arlo Pro 2). (Unless you opt for the paid continuous recording option of the Arlo Pro 2). Arlo Pro and Arlo Pro 2 cameras are compatible with all of the smart home systems:
Amazon Alexa, Google Home, SmartThings, Wink, IFTTT, etc. Included with each of the units is an outdoor mount, which is recommended to use instead of the indoor magnetic mount. You can schedule ( geofencing ) to automatically arm the cameras when you leave home. You may have each of the cameras give you a warning for activated sound and motion events. External camera dimensions are similar. You can use the different skins to adjust the look of any camera.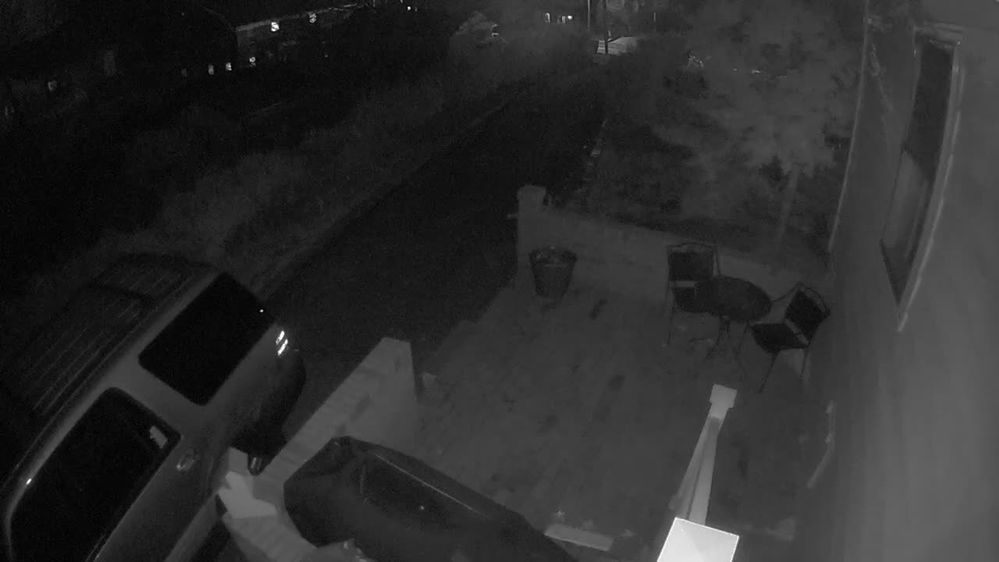 Money Saving Tip
If you are having a hard time choosing which one to use, bear in mind that the systems are compatible, meaning all base stations with work with cameras from the other system. So my advice is to start off with the cheaper Arlo Pro device right now, and only add a Pro 2 camera or two when you find that you have an area that needs continuous recording or higher quality videos. You save a lot of money this way.
When I first looked at the image quality of the Arlo Pro, I was fairly impressed. Recording at 720p in high resolution is becoming more common in home security cameras, and it was good to see it provided here. The problem is playing the videos back seems to have lost a little of the high definition in the compression. It isn't a terrible drop, but it is noticeable. The Arlo Pro 2 upgraded the resolution to 1080p HD video, and it does make a difference. The video is much better in the Arlo Pro and this is one of the key reasons to choose the Arlo Pro 2 over the original Arlo Pro. The Arlo Pro 2's camera covers a wider area than the Arlo Pro, I like that you can see a wider area but it does have a more pronounced fisheye effect. Not too much of a problem in a surveillance camera. Bottom Line: The 1080p resolution of the Arlo Pro 2 is the clear winner.
Aesthetics and Accessory Compatibility
Although reports and forums have suggested that the Arlo 2 camera is physically different from its predecessor, it's not. The size gap is an optical illusion created by the color of the camera's ring. Arlo Pro 2 has a white ring where Arlo Pro has a black ring, which makes the camera look larger, even though it's not. The only other physical distinction is letter coloring. Arlo Pro 2's lettering is metallic, where Arlo Pro's lettering is smooth. As the cameras are the same size, they use the same accessories like outdoor power adapters, skins, batteries, solar panels, and mounts.
They are both controlled by the Arlo app which means that you can monitor all of your Arlo cameras (Arlo Kid, the original Arlo, Arlo Pro, Arlo Pro 2, Arlo Security Light, Arlo Go, Arlo Q, and Arlo Ultra) from the same location. Arlo Pro and Pro 2 also operate with the same base station. In reality, if you buy Arlo Pro 2 as a Starter Kit (Base Station and Cameras included), it will ship with the Arlo Pro Base Station, which is the same Base Station that ships with Arlo Pro.
The cameras are still backward compatible with the original Base Station, but there are advantages to purchasing the Pro edition (USB Storage and a built-in siren) (USB Storage and a built-in siren). Arlo Pro, Pro 2, and Arlo Wire-Free are all compatible with Arlo Audio Doorbell . The Arlo Audio Doorbell is a smart doorbell that lets you answer your door from anywhere. But unlike video doorbells, the Audio Doorbell isn't fitted with a camera. So if you want to see your visitors and track your front door, you'll need to pair the doorbell with one of Arlo's wireless cameras.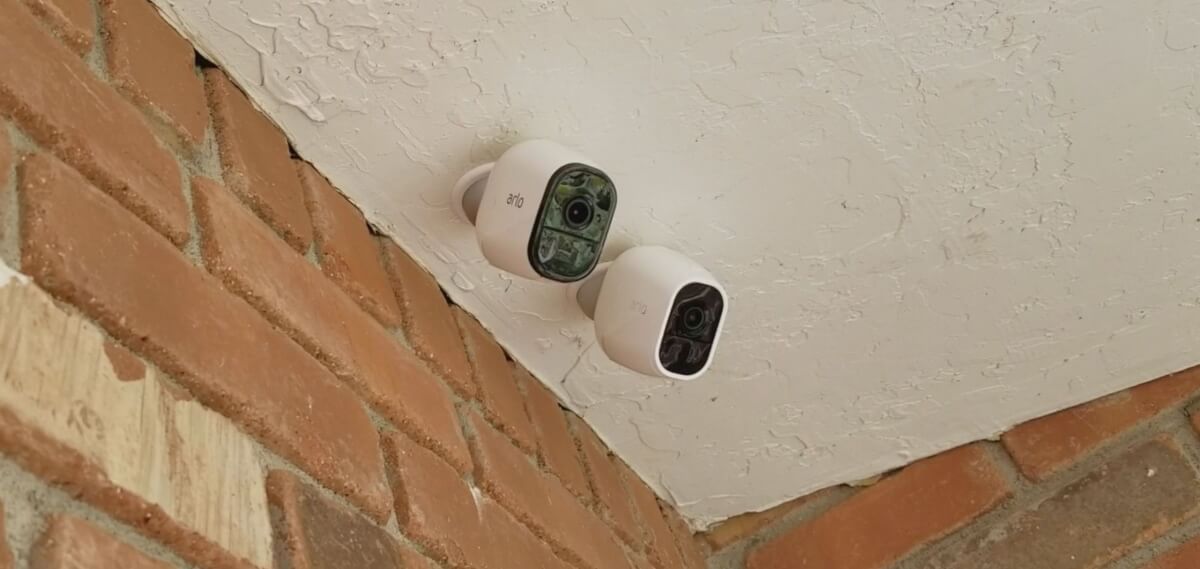 Cloud And Local Storage
Finally, one of the most important security features provided by Netgear is free cloud and local storage. If you connect the cameras to the Pro Base Station, you will also have access to local storage through a USB storage device (flash drive, hard drive) (flash drive, hard drive). When using local storage, the cameras can record to the cloud and the local computer simultaneously. Local storage serves as a backup to the cloud, not as a primary storage process. However, if you lose your internet connection, local storage can take over (if the base station still has access to power.) The storage device you select must use a FAT32 file system format. FAT32 supports up to 2TB.
Both Arlo Pro and Arlo Pro 2 provide seven days of cloud storage (1GB) for motion and sound events. The free plan is called Basic. Basic supports up to five cameras and offers three months of tech support. All captured clips are saved to your library. From the library, you can favorite, stream, donate, share, and uninstall clips in bulk or individually. You can also filter video. You can filter by camera, favorites, non-favorites, motion events, audio events, manual recordings, or you can filter to display only events caused by IFTTT.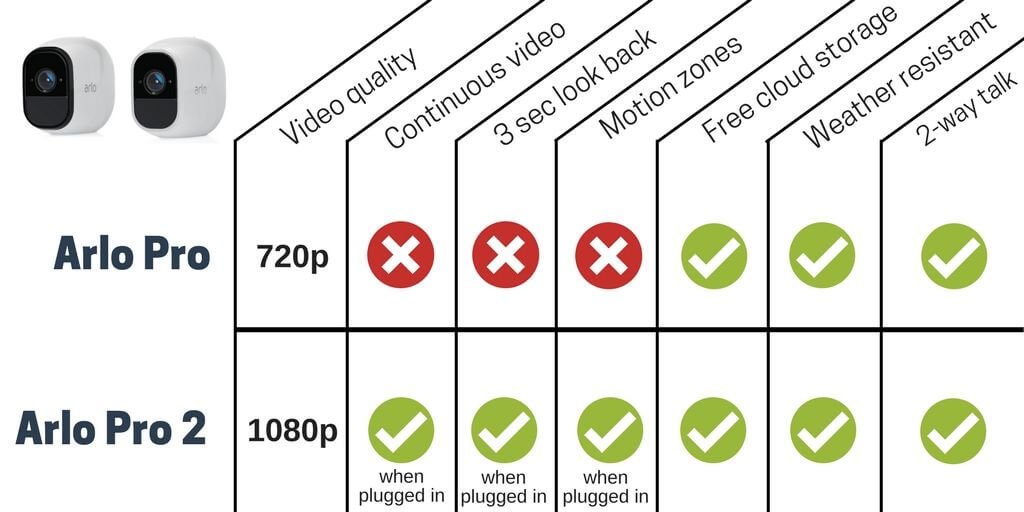 Additional Security Features
When it comes down to it, there are only just five variations between Pro and Pro 2. The first is price. The second is resolution. During the day, Pro 2 provides an FHD image where Pro is HD. As you can see, the difference is really in the specifics. The blades of grass are much more specified when watching both live and captured video, but the difference isn't big. Besides resolution, all other features that are exclusive to Arlo Pro 2 demand that the camera is plugged in. But take note: the provided power cord is not weatherproof.
If you want to keep the camera plugged in outdoors, you may need to buy the Outdoor Power Adapter (VMA4900, $24.99), which works for both Arlo Pro and Arlo Pro 2. The first plugged-in feature unique to Pro 2 is CVR (it also works with Arlo Q, Netgear's wired indoor camera). When subscribing to a CVR contract, the cameras will record non-stop, 24/7. CVR plans are paid per camera rather than per account. The first package offers fourteen days of continuous video for $9.99 per camera per month or $99.00 per year. The second package offers thirty days of recordings for $19.99 a month per camera or $199.00 a year. If you want to connect CVR to more than one camera, you will receive a 50 percent discount on each additional plan. Arlo does not support the ability to download CVR video.
The second plugged-in feature is called Activity Zones. Arlo Pro 2 can support up to three rectangular shaped Activity Zones. If motion is detected inside your set zone, you'll receive a warning. Conduct that happens outside of your set zones will be ignored. As Pro 2 provides a wide angle view, this is useful when controlling large spaces. For stance, you can track your front door while ignoring walkways, which will allow you to continue monitoring even when you're home. As already stated, if you pay for Arlo Smart, you'll also have access to Activity Zones even when the camera is unplugged. Finally, when plugged-in, Arlo Pro 2 supports Look Back. Look Back attempts to overcome one of the big problems of a battery operated surveillance camera: sleepiness.
To save battery life, most battery-powered cameras sleep between events. The problem is that often incidents happen so fast, that the camera will struggle to capture footage that is helpful. Look Back helps the camera to buffer 3-seconds of video continuously. When an incident happens, the 3-second buffer is tacked onto your video so that you have the event footage plus an additional three seconds, minimizing the risk of a missed event. Third-Party Compatibility In addition to integrating with its own products, facilities, and accessories, Netgear Arlo cameras operate with third-party devices. All four wire-free cameras (Arlo, Arlo Pro, Arlo Pro 2, and Ultra) work with the Arlo Alexa Skill .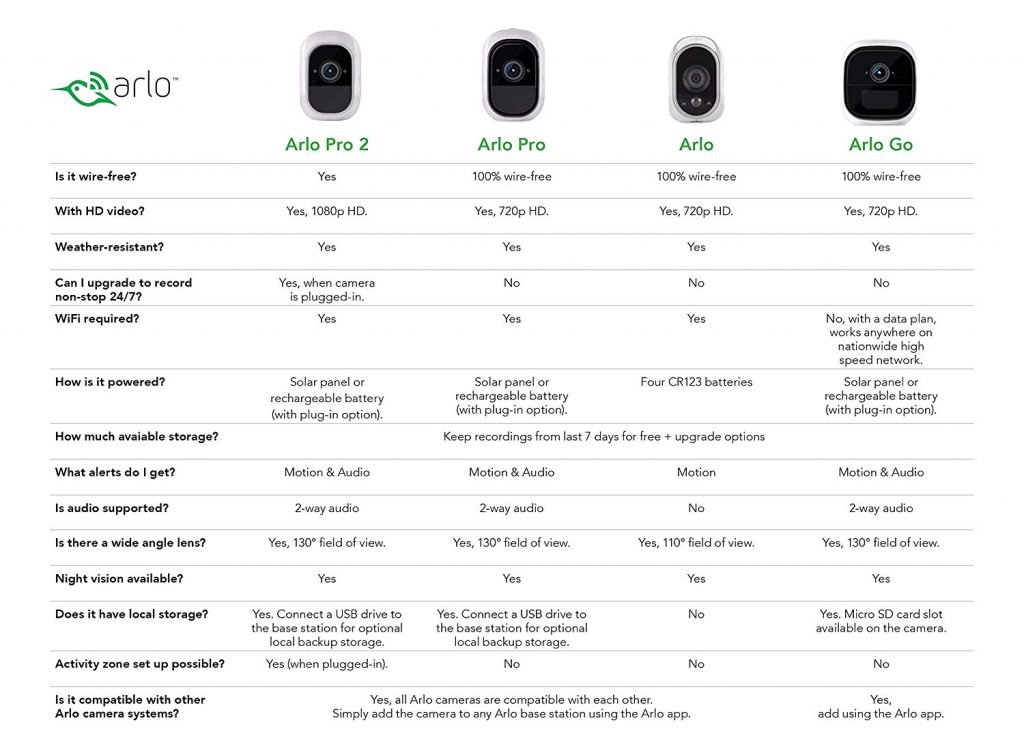 The Alexa Ability is not compatible with all Alexa devices. Currently, it is only compatible with Alexa devices that have a screen including: Echo Demonstrate Echo Place Fire TV, 2nd Gen Fire TV stick, and Fire TV Version smart TVs Using your voice, you can ask Alexa to show a live stream from any of your cameras. The feed will broadcast to your connected computer. You may also ask to access the most recent captured video clip. Second, Arlo works with SmartThings Third, Arlo can connect with other third-party devices and services via IFTTT. IFTTT functions using Stimuli and Actions. Arlo has three stimuli and three available actions.