Tommy Armour 845 Driver Review
Are Tommy Armour golf clubs still available?

Yes, Tommy Armour golf clubs are still manufactured today and are available at stores such as Golf Galaxy and Dick's Sporting Goods. Although the brand has changed hands multiple times over the years, Tommy Armour clubs are currently made by Designworks.
It's clear that Tommy Armour clubs are less popular than they once were. This is why some people think they are no more.
They were very popular among recreational golfers when they arrived in the seventies/eighties. In fact, the eighties saw them sell more than 600,000.
But as other manufacturers like TaylorMade and Callaway emerged and dominated the market, smaller golf brands like Tommy Armour were shifted to the sidelines!
Even though you may not find Tommy Armour clubs in every store, you can still look for them if they appeal to you.
Maximize Your Potential

Even though Tommy Armour is not a terribly large manufacturer of golf clubs, they still make two product lines.
These are both the Tommy Armour Standard 845 and Tommy Armour Max 845.
The Max lineup has more forgiveness, more significant sweet spots, and better overall performance for the higher handicap player.
If you don't have any previous experience with golf, you may need to be more patient in order to play your best.
The Max clubs are typically offered at the same price as the regular, but they are simply geared towards a different player.
You can do yourself a favor by asking for forgiveness in the early stages.
You will not regret the fact that you had some help in learning the most difficult game there is.
What Is The Current Range Of Clubs And Where Can I Buy?

The current range of Tommy Armour clubs is the 845 series, and you can buy them from Golf Galaxy or Dick's Sporting goods. So you know what the Tommy Armour 845 range is worth, you can plan your budget accordingly.
Tommy Armour 2021 845 MAX irons: $449.99 (set)
Tommy Armour 845 wedge: $79.99
Tommy Armour 845 driver $199.99
Tommy Armour 845 fairway: $149.99
Tommy Armour 845 hybrid: $129.99
Tommy Armour 303 Milled Series Serrano Putter: $199.99
Tommy Armour Impact No.2 Wide Blade Putter: $119.99
Source: Golf Galaxy
As you can see, the Tommy Armour 845 range is available at a great price point, and you can put together a whole back for under $1,000. You should consider that many of the most well-known brands in golf will charge you $1,000 for an entire set of irons.
You might also come across Tommy Armour's A1 series, particularly if you're looking to buy your clubs second-hand. These have been popular for a while with recreational golfers, and the 845 range was only introduced in 2021.
Not A Complete Set

Many beginner golf clubs are sold as complete golf club sets with fourteen golf clubs and even a golf bag.
The Tommy Armour golf clubs are not sold like this.
However, this is not a bad thing.
We actually like that you don't have to carry around a whole bag of clubs, which may or may not suit you.
With the Tommy Armour clubs, you can get similar pricing as you would with a complete set, but you can purchase just the clubs you want.
A new player will be able to choose a driver or hybrid and fairway.
In addition, the quality of the Tommy Armour clubs compared to other beginner complete sets will be considerably better.
Are Tommy Armour 845S Good Golf Clubs?

In the 1980s, Armour designed the Silver Scot 645 which is among the couple of non forged heads that should be in the Smithsonian. One person bought a pair G Loomis graphite shafts on sale for $1750. That is the same price as PXG today. Tommy Armour's decline arrived together with the evolution of competitors and advertising with greater quantities of ambition and capital. Armour's niche dwindled till they had been relegated to the beginner/budget offerings at huge box stores.
The gear of theirs even now gets feedback that is excellent, but since nobody on Tour of mention plays it, it suffers for the limelight. It is astounding just how effortlessly the customer market place is preoccupied, just how much a business suffers because of it, and the way it does respond to the cause. Armour remains living, along with the latest rumors claim that Dick's Sporting Goods is placing much more energy into showcasing the emblem. This shift is not done, but it will be more than just putting lipstick on the model. Possibly Tommy Armour's R&D staff had better have a number of rabbits prepared to be yanked- Positive Many Meanings – from hats, and they put together marketing endeavors of both passions will have to get nice equipment on the marketplace daylight by having an engaging plan.
Are Tommy Armour Irons Forgiving?

Tommy Armour golf irons are forgiving.
There are two sets of Tommy Armour golf irons on the market currently, the 845 and the 845 Max.
Even though the 845 Max is considered to be more of the game improvement line, there is still plenty of forgiveness in the 845 line.
The driver, hybrid, and fairway wood are all included in this set. You can clearly see the huge sweet spot and the enormous size of the club head.
The wedges in the Tommy Armour 845 series are not quite as forgiving as the irons and hybrids.
They have an incredibly good feeling.
When choosing a wedge for your game, a club with the best overall feel is essential.
In the end, it can be a difficult choice to decide on which forgiving set of irons is the best for your game.
Most golfers find that the Tommy Armour brand gives them what they need for a very fair price.
Is Tommy Armour Still Alive?

No, Tommy Armour lived between 1896 and 1968. He was an extremely successful Scottish-American professional golfer, with three major championships under his belt. In 1927, he won the US Open, the PGA Championship, in 1930 and the Open Championship, in 1931.
He was born in Edinburgh in Scotland and retired to Florida where he taught lessons for the Boca Raton Club. In the summer, he also lived in New York City as a member at Winged Foot Golf Club.
Armour's name is associated with the many clubs bearing his name. He also coined the term "the yips," which describes the sudden, unexpected loss in skill experienced by athletes from time-to-time.
The yips are associated with golf putting and can be detrimental to even the best players!
Tommy was introduced into the World Golf Hall of Fame in 1976 and is regarded as one of the finest golfers of his age.
While not quite as successful as his peers in terms of major wins, he won 25 times on the PGA Tour and left behind an impressive sporting legacy.
A Extra Forgiving Ta845

As its title suggests, the brand new Tommy Armour 845 MAX brings a bit extra of a sport enchancment slant to the Tommy Armour line. Relaxation assured, the Tommy Armour staff hasn't achieved something loopy. Shapes are nonetheless typical and hosels haven't been offset. We're merely speaking about boosting forgiveness by the use of larger MOI and what DICK'S is looking Flex-11 expertise. It's Tommy's reply to the assorted velocity preservation strategies utilized by rivals throughout the trade.
The improved forgiveness comes from larger MOI made attainable by a single-piece carbon fiber crown and an general heavier head weight. The Tommy Armour 845 Max includes both a lower and a higher center of gravity.
This is just boilerplate to any design that has forgiveness as its promoting level.
MOI should measure in the 5500 range, for those of you who are numbers-oriented. That's not fairly the identical ballpark as PING and PXG however it's solidly on the larger finish of the forgiveness vary, which ought to play properly with the meant viewers.
Tommy Armour is a good brand?

Tommy Armour 845 was considered the best golf brand in competition with Ping Eye 2, which dominated the iron market during the 1980s and early 1990s. More than 600,000 sets were sold. The brand was named after Tommy Armour (who was an Hall of Famer inducted in 1976) from Scotland, who later moved to the United States in 1922. During his days, he won the 1931 Open Championship at Carnoustie, 1930 PGA Championship at Fresh Meadow on Long Island, New York, and the 1927 US Open at Oakmont. It was in the 1970s that the Tommy Armour brand was founded, and the 845 line sales made it gained popularity all around the world as it remained a relevant iron club manufacturer until the beginning of the first decade of the new century. Its popularity was greatly boosted by the 845 line sales. However, since it could not replicate the success of its seminal Iron, the brand's name faded from the marketplace and the 845 product remained the most well-known.
Tommy Armour's Golf Clubs: What happened?

The Tommy Armour brand was very strong in the 1980s and the 1990s.
The 845 irons are still some of the most popular at that time.
Even companies like Ping were noticing how the Armour clubs were starting to put a dent in their overall sales.
The 845 irons were very popular with golfers because of their feel and ease.
In addition, these clubs had a good look to them, and they came at an overall fair value.
For golfers who are interested in getting some feedback when they miss a shot or need a bit more of that feel when the club isn't hit in the center, the Tommy Armour 845 is a perfect solution.
However, over time, we started to see the interest in the Tommy Armour golf clubs gradually fading.
Players were not as interested in the brand as companies like TaylorMade, Callaway, and Titleist were starting to really dominate the market.
Sports Authority bought Tommy Armour as we entered the 2000s.
Sports Authority adopted the Tommy Armour brand as their brand for stores. The clubs were known as value lines that offered good performance and a great price.
Those who had played the Tommy Armour clubs earlier in their careers were highly impressed with the value but slightly disappointed in the lack of feel and overall performance.
The Sports Authority was bankrupted in 2016.
It seemed that Tommy Armour's golf equipment was at an end.
This is when Dick's Sporting Goods also decided they might be interested.
Although it took a few years, the Tommy Armour brand is back and available exclusively at Dick's.
The clubs are very similar to how they were at Sports Authority.
These golf clubs are affordable and offer good value.
A set of Tommy Armour golf irons is about half the price of a set of TaylorMade or Callaway golf irons.
When it comes to customization and features, there is very little to choose from with Tommy Armour, but there are flex choices in the golf shafts.
Tommy Armour's club line at Dick's is growing, with many individual clubs, hybrids and fairway woods you can use for a complete set.
Overall, the Tommy Armour brand is back even though it has gone through quite a bit through the years.
This information could help you locate the best clubs for you if you've been an avid follower over all those years.
Keep It Simple To Start

Golf doesn't have to be as difficult as you think.
Many golfers start their journey with complete sets of clubs designed by a company specifically for beginners.
Some of these sets come with a full 14 clubs, and the new players don't even end up using these clubs for years.
Instead, players need to focus on precisely what they need, order the individual clubs, and then put something together that works really well for their game.
Essentially, you will want to keep it simple with a limited set of irons, a wedge or two, a hybrid, fairway wood, and a driver.
Tommy Armour seems to be fairly stable right now, so you have the option of adding clubs to your collection as you get time and decide that you want more.
When a golfer is new to the game, most of the golf clubs travel the same distance, and it is not worth having 14 clubs in the bag.
Are 845 Tommy Armour Clubs Good?

The Tommy Armour 845 clubs were what really put this brand on the market back in the 1990s.
The 845 is the new line of Tommy Armour clubs.
Despite the confusion, it is easy for players to distinguish the difference between old and new equipment.
Tommy Armour's clubs will have a completely different look and feel.
We are not surprised that Dick's Sporting Goods would call these clubs the 845s.
Many avid golfers still recall the performances of their original line-up and are eager to find it again.
The hope was that this naming of the golf irons would help bring people to the brand and ensure that they felt comfortable making their purchase.
The last thing that Tommy Armour clubs should be considered is "cheap."
This set is a good choice for game improvement. However, the clubs are more valuable than any cheap or knockoff set.
Are Tommy Armour Golf Clubs Made In China?

Tommy Armour Golf Clubs are not 100% made in the US. Like the majority of golf clubs available on the US market, many components of Tommy Armour golf clubs have been sourced from China and other Asian countries. Tommy Armour headquarters is in Miamisburg, Ohio where the clubs are assembled.
They are made in America and include all the American quality assurances you would expect.
Although you may think it sounds sloppy, this is a common practice in golf.
Few brands are able to claim that they're all American – PXG, PING and others being the obvious ones – and these products always have a higher price due to higher material and labor costs in America.
As such, we wouldn't get too caught up in the fact that Tommy Armour clubs are in part manufactured in China, as it's very common in the golf industry.
You don't have to be concerned about getting equipment of poor quality when you purchase clubs from Golf Galaxy and Dick's Sporting Goods.
Tommy Armour 845 Irons

This Tommy Armour 845 Iron series will please fans of Iron. You can choose between regular or stiff flex Irons. You will have the option to select according to your preferences.
The club's variable face thickness will allow you to improve your performance.
Besides, the club will also offer you to adjust the CG level with two different types of hollow construction. You can therefore expect to have a greater command of the club and great proficiency.
It is easy to use the club's high-density weighting system. The club's vibration-reduction capability is another great advantage. You can expect to get a premium contact sound with less vibration output through these essential golf clubs.
Finally, the inclusion of the 360-degree grip should never disappoint you with its comfort level. Here is a little specification chart so that you can make a better decision while grabbing a Tommy Armour 845 golf irons
Modular
Loft
Lie
Länge
5 Iron
22deg
61.5deg
38.25″
Six Iron
25deg
62.0deg
37.625″
7 Iron
29deg
62.5deg
37.00″
8 Iron
33deg
63.0deg
36.50″
9 iron
38deg
63.5deg
36.00″
PW
43.5deg
64.0deg
35.50″
AW
49deg
64.0deg
35.25″
Mizuno golf irons are also great for beginners to improve their performance.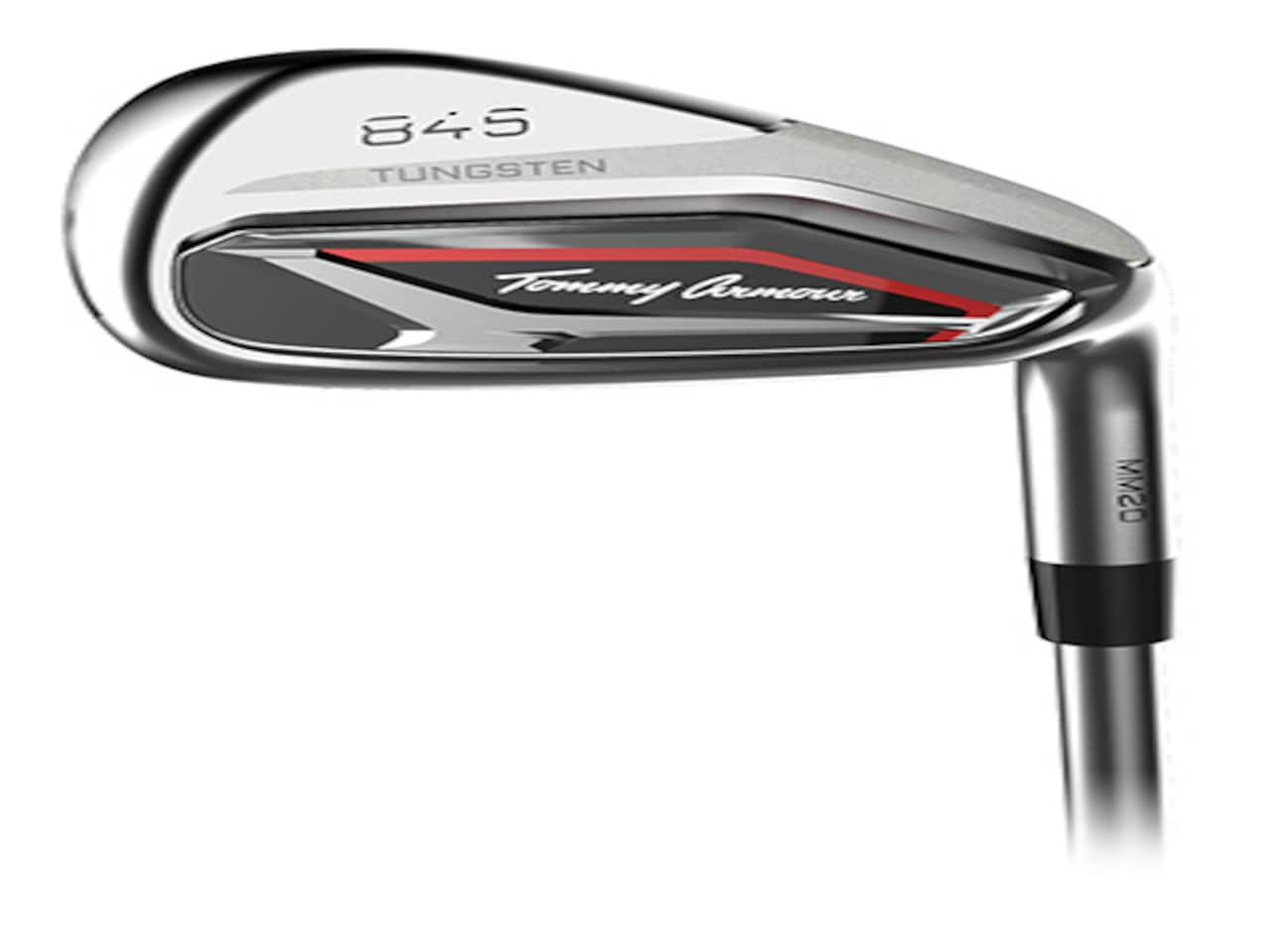 The Tour Edge

Tour Edge does the same thing that Tommy Armour does when it comes to manufacturing two different lines of products.
The Tour Edge product comes in the standard line, which is typically the HL series or similar, and the Exotics series, which is for the lower handicap player.
Tour Edge isn't as marketed or advertised. Instead, Tour Edge offers a high quality product at an affordable price.
The Tour Edge products are also very easy to order custom fit to your needs.
This is actually one of the most economical brands for custom-fitting.
This is something that the Tommy Armour golf club brand does not offer, and therefore, it makes sense for players who fall outside of average height to look into the Tour Edge brand.
The overall performance and pricing of the Tour Edge will likely be comparable to Tommy Armour's.
Tommy Armour 303 Milled Series Habanero Putter

The 303 putter also comes with essential alignment features so that aligning the ball and the club becomes much easier.
Tommy Armour Offers Golf Clubs for All Ages

Tommy Armour is not a brand of adults only. Tommy Armour is bringing high-quality golf clubs to all ages. Both teen and adult will find their appropriate gears to choose from Tommy Armour. You will also find forged as well as non-forged clubs to make your experience even more enjoyable.
Tommy Armour 845 Max Fairway Wooden

As is sort of all the time the case with fairway woods, the TA 845 Max fairway story is much like that of the driving force.
A CS450 maraging-metal face has been paired to the carbon crown, which leverages Flex-11 expertise. Once more, for the numbers guys, the green thickness begins at 2.2 millimeters and steps right down to 1.4 within the thinnest areas.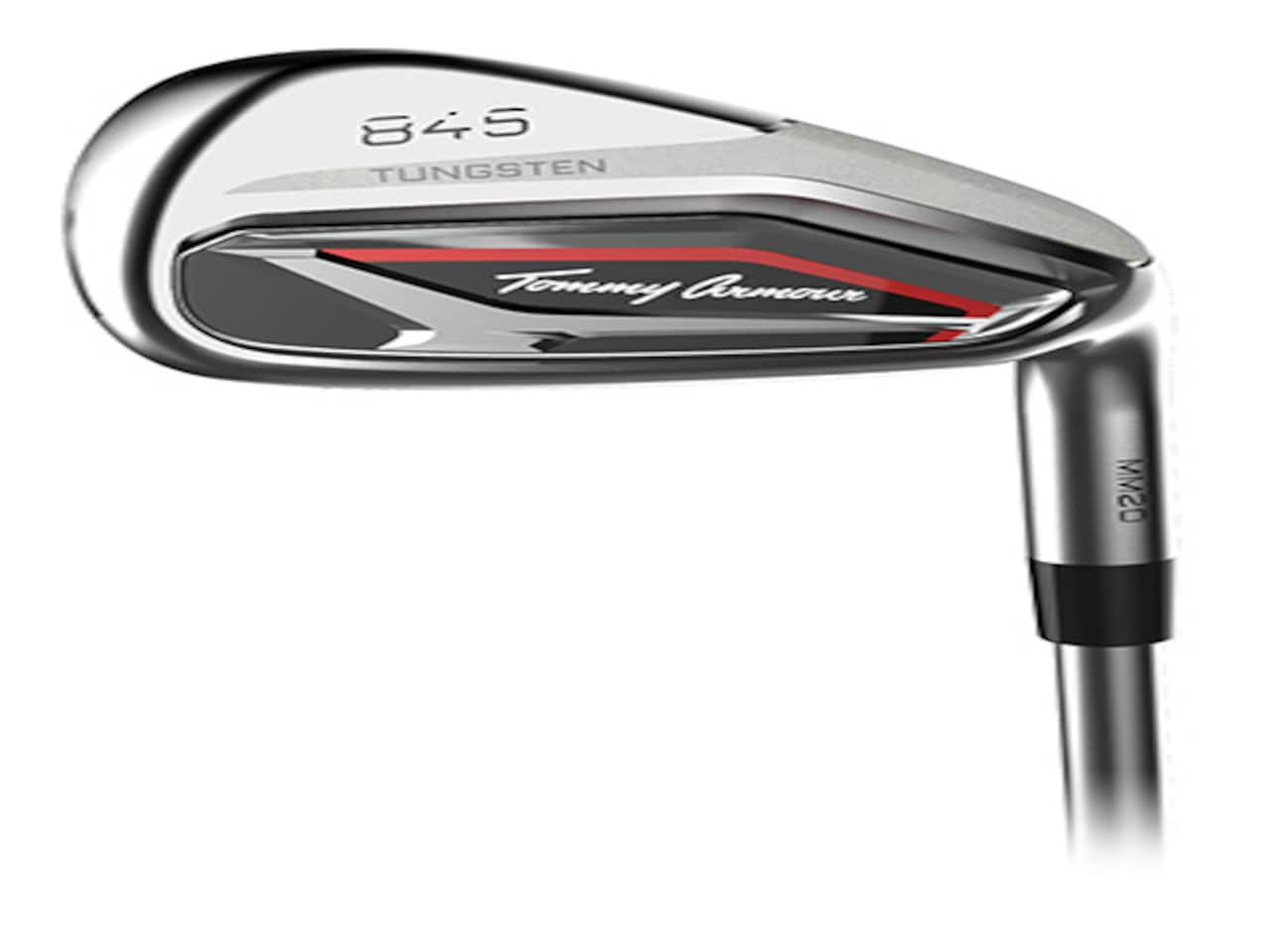 Forgiveness

Most golfers don't hit the center of the club face with every swing. This is especially true of beginners or high-handicappers who are shopping for game improvement. The Tommy Armour 845 irons combat this issue with tungsten weighting in the toe, resulting in higher MOI. This is golf technology speaking. It means that the irons of Tommy Armour 845 won't punish you for not hitting the centre of your face like a player's club iron.
Launch

Hollow-body allows for the center of gravity to be lower in the clubhead to boost launch.
Perks

Armour 845s have a comfortable and soft feel, mid-sized clubhead with their cavity balance. They have great bounce and the sole is quick through the ball. The long irons (2-4- to 5-iron) can deliver excellent-to-superb range and are good shot-shapers. Shot irons, on the other hand offer solid spin and precise trajectories.
Tommy Armour is Budget-Friendly

Tommy Armour is not that popular when you compare them with renowned golf club manufacturers like TaylorMade, Titleist, Cobra Golf clubs, and so on. But when one is talking about budget and price, Tommy Armour is one of the most appealing brands to grab.
You will get almost 50$ dollars to 150$ dollars of leverage with Tommy Armour golf clubs when compared to an equivalent branded golf club.
Specifications

With an improved club face, the 845 irons are designed to deliver a long-lasting iron that is easy to launch and forgiving. The lineup also includes the 845 Max irons, a super-game-improvement iron with a wider sole and lofts aimed and increasing launch, and the women's 845 Max.
Who Makes Tommy Armour Golf?

The Tommy Armour golf clubs are made by Dick's Sporting Goods.
Although the brand was not originally produced by Dick's in all instances, Dick's recognized that Tommy Armour would make a great fit for their customers.
Overall, the Tommy Armour golf clubs are not offered in custom configurations.
Essentially, when you purchase this set, it will come directly from the manufacturer, and that will be Dick's Sporting Goods.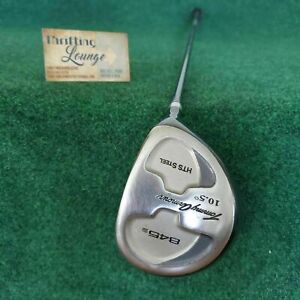 Are Beginners able to play with Tommy Armour golf clubs?

Tommy Armour is most interested in the beginner golfer.
Here are some things to know about Tommy Armour's golf clubs if you are just starting out as a player.
Tommy Armour 845 Driver Review
Is 845 Tommy Armor Good for You?

Tommy Armour 845 Forged The 845 Forged ($999 for a set of eight) sits squarely in the Players' Distance iron category. Given its adherence to the original 845s' DNA, this is a smart choice. As luck would have it it is the fastest iron type on the market. Feb 14, 2020
Tommy Armour is a good brand?

So, to answer the question, YES, they are very good! I would highly recommend these TA1s for anyone. Tommy Armour irons, TA1, are amazing. They're strong and durable.
What Year Did Tommy Armour 845S Come Out?

845s launch The Tommy Armour irons 845s were launched at an American Resort meeting in Wisconsin, August 1987. This iron was fitted with a customized fitting system.
Tommy Armour Golf, What's Happened?

Armour, who died in Larchmont in New York, was cremated in Hartsdale at Ferncliff Cemetery, but not interred. Armour's name is still used to market modern golf equipment. In 1976, Armour was inducted in the World Golf Hall of Fame.
.Tommy Armour 845 Driver Review