Trader Joes Kringle

Trader Joe'S Kringles Ingredients & Nutrition

Trader Joe's kringles contain between 2160 to 2760 calories total, depending on their flavor. The nutrition label states that each kringle can feed up to 12 people. Therefore, the calories are between 170 to 230 per serving.
Raspberry kringle is O&H Danish Kringle's lowest calorie per serving. Pecan Kringle is next, then almond Kringle.
The ingredients used in each kringle also differ depending on the flavor, but here is the ingredients list for the raspberry kringle, which is the flavor currently available at Trader Joe's…
As you can see, these kringles contain wheat, butter, palm oil, soybean oil, cane sugar, cornstarch, corn syrup, eggs, yeast, modified corn starch, and hydrogenated soybean oil, ingredients which might raise red flags for some shoppers.
You might find it difficult to get home after buying a kringle at Trader Joe's before eating a portion of it. You can enjoy these sweets straight out of the bag. The pastries are delicious and you can enjoy them at room temperature or with a cup of hot coffee or tea.
If you want to heat up your kringle, preheat your oven to 350degF and heat the kringle on a baking sheet for about 3 minutes.
According to O&H, these kringles freeze well, but you'll want to thaw them fully before eating. To thaw, simply remove your kringle from the freezer and let it sit out on the counter overnight before popping it in the oven or serving at room temperature.
Trader Joe'S Almond Danish Kringle

The pros: Trader Joe's Almond Danish Kringle is not actually a Trader Joe's branded product, but a well done one. It freezes well and this flavor was delicious. The company sells it online, but Trader Joe's has the best price.
Cons: Kringles flavors can change seasonally. Some people may find it too sweet.
This kringle is not actually a Trader Joe's product, but rather from a company called O&H Danish Bakery. For $7.99 you'll pay at Trader Joe's, it's far cheaper than the shipping and handling cost alone of shipping a kringle out to you. Plus, in store these are as fresh as anything.
What exactly is a Kringle? From what I can tell it's a Scandinavian variety of pretzel. This pretzel is not the same as what you may be picturing. This is a sweet variety that is more of a reference to its shape than texture. The almond layer, the frosting and the entire pastry are all sweet. But oh, this is so very good.
Warmed slightly per the directions, you get a treat for breakfast or dessert. This product is unique because of its thin layers. These thin layers are similar to croissants, except that they lack the crisp outside. The filling does not form a large glob, but is evenly distributed throughout the layers.
It's well worth trying if you haven't already. The almond flavor was delicious and I look forward to trying the others. If you're wondering, the answer is yes. You can freeze this product and then take only what you want.
Here is the visual run down of what you get if you buy this product:
The package of Trader Joe's Almond Danish Kringle:
Ingredients and nutritional information
More about this company:
Ordering from a specific retailer:
Out of the package you get:
After being sliced you get:
The layers of yummy goodness:
Have you tried it? Let me know what you think in the comments section!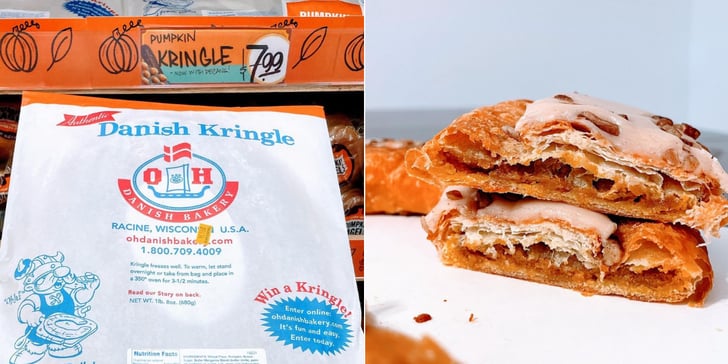 What To Serve With Trader Joe'S Kringle Danish Style?

Kringle is delicious at room temperature. However, the texture and flavor are improved when it's warmed in an oven heated to 350°F for 3 to 5 minutes. (Or by using a microwave for 7 to 10 seconds). Put a dollop of ice cream on top of a warm slice of kringle if you're in the mood for something a little more decadent. Velkommen. here are several ideas:
The Trader Joe's Kringle Danish Style may be kept in a container with an airtight seal at room temperature up to seven days, or the refrigerator for up 10 days.
For longer shelf life, it's recommended to keep your Trader Joe's Kringle Danish Style in the freezer in an airtight container for up to 2 months.
No, Kringle Danish Style from Trader Joe's can be kept safe to eat for up to 7 days when stored at room temperature in an airtight container. The container should not be opened during this time.
Making Danish Kringle

This Danish Kringle recipe has two layers: a buttery pastry crust and a topping that's crisp on top, but still a little custardy in the middle.
You'll start by making the pastry crust. Simply combine flour and butter with a fork until you have a mixture that looks like course crumbs. Then, you'll add just enough water to hold the crust together.
The kringle dough will need to be pressed into a baking dish that has not been greased.
This "topping", which is simply pate achoux, the dough that's used to make cream puffs. Don't be alarmed if it sounds fancy. It's really easy!
If this was up your alley, you might appreciate

Does Amazon Take Afterpay

In a large saucepan, combine the butter with water. Stir in the almond extract, and bring to a rolling boil.
If you were a fan of this, you might also appreciate

What Is Upt Amazon

This will prevent lumps.
After the dough has been smoothed out, add three eggs one by one. When you're finished, the filling should look like a smooth, glossy dough.
You're going to spread the filling over the kringle pastry crust, then bake your kringle until it's crisp and browned.
As I said earlier, the kringle usually has a shape. In Wisconsin, you'll usually find it shaped into an oval with a hole in the middle (like an "O"), and I've also seen them shaped into rectangles.
We've always baked it in a pan, but you can use these same ingredients to make a shaped Almond Danish Kringle, too. Just follow the same procedure for making the pastry and topping, then shape the pastry on a baking sheet and add the topping (bake as usual).
As the kringle bakes, the bottom gets flaky like a pie crust and the topping puffs up and crisps. Yet, the inside stays soft and little custardy. Yum!
Are you ready to finish the job?
You may have noticed that neither the pastry nor the topping has any sugar in it. The final step is to add a powdered sugar glaze.
This glaze is super easy to make and adds the perfect amount of sweetness to the finished Danish Puff.
Add a few toasted almonds too. They add extra almond flavor and a little crunch.
Danish Kringle with Almonds is one those sweets that you can't stop eating. This is so good.
Try this Danish Puff. It will be a family favorite, just as it is mine.
Where Can I buy Trader Joe's Kringle Danish style?

You'll be able to find Trader Joe's Kringle Danish Style in the Trader Joe's closest to you, or any supermarket. Just look for the frozen food section.
Trader Joe's only sells kringles during the holiday season, but the grocery store sells other types of pastries throughout the year, including pecan kringles in January and February. Raspberry kringles can be found in the months of April and May.
On December 19th, 2020, the FDA recalled Trader Joe's holiday treats due to an error in labeling a batch kringles as "almond" when it was actually filled with pecans. According to the FDA, this error occurred due to a "temporary breakdown in the company's baking and icing processes". The pastries have not caused any illnesses, but people with allergies to pecans are at risk for serious and life-threatening reactions. These products were wrapped in waxed paper with the batch number #26720 on the right hand corner.
Company Announcement

O&H Danish Bakery, Inc. of Racine, WI is recalling 3,173 units of Almond Kringle (1lb 8oz) with batch code 26720 sold in Trader Joe's retail stores because it may contain undeclared Pecans. People who have allergies to pecans run the risk of serious or life-threatening allergic reaction if they consume these products.
The recalled Almond Kringle were delivered to the Trader Joe's stores located in Texas, Tennessee, Oklahoma, New Mexico, Louisiana, Colorado, Kansas, Arkansas and Alabama.
The product is packaged in a white wax paper bakery bag marked with batch code #26720. The batch code can be found in the upper right-hand corner of the product nutritional label (see diagram referenced below).
As of yet, no illnesses related to this issue have been reported.
The recall was initiated because it was discovered that four pecan filled kringles were incorrectly labeled as Almond Kringle and delivered to the Trader Joe's distribution center as a part of a larger order. Subsequent investigation indicates the problem was caused by a temporary breakdown in the company's baking and icing processes.
People who have an allergy to pecans run the risk of serious or life-threatening allergic reaction if they eat this product. Please do not eat the Almond Kringle if you have a severe pecan allergy and purchased it from a Trader Joe's in any of the listed nine states. We urge you to discard the product or return it to any Trader Joe's for a full refund. Alternatively, you may send an email to TJrecall@ohdanishbakery.com with a picture of the product label for a replacement item delivered to your door.
If you would like to talk further about any questions you may have, please call our President, Eric Olesen at 262-631-598.
What is the difference between a Kringle and a Danish?

It is important to note that the main difference between Danish and Kringle (a nordic type of pretzel) is that Danish is an airy, sweet, yeast-raised pastry that's usually filled with cheese or fruit, while kringle resembles a Scandinavian type of pastry.
If you appreciated this, you might also enjoy

Does Target Accept Wic

O&H Danish Bakery in Racine Wisconsin makes Trader Joe's Kringle Danish Style. O&H Danish Bakery Inc. is a family owned bakery that has operated since 1949. It is a dessert and bakery gifts shop.
At Trader Joe'S?

OMG!
You ask, what is a Kringle? (Yep, I had to look it up too ….) Kringle, a Scandinavian treat that's related to pretzels and comes in both a sweet (like salty pretzels) and a savory variety.
It is rich, tender and delicious pastry that surrounds the Danish Kringle filling. The pastry was topped with a light, fluffy icing which complemented the filling.
The package (and the lovely folks in our Trader Joe's store) recommended that we gently warm up the Kringle before eating….
How Is This Recipe Different Than A Traditional Kringle?

It's also easier to prepare because the dough isn't yeast, so it doesn't need to be allowed to rise. The Yeast Kringle is usually reserved for special occasions like Christmas. But this one can be made anytime.
Also, this Kringle recipe isn't technically filled with anything, like store-bought Kringle. The top layer of flake pastry is a sweetened pate-a-choux, a special kind of pastry dough that fluffs up as it bakes. The dough's wonderful taste is due to almond extract.
The taste of the real thing is simply amazing. The real thing is impossible to miss. You'll find that homemade pastry tastes better and is more satisfying than anything you can buy in the store. Your loved ones will also appreciate this.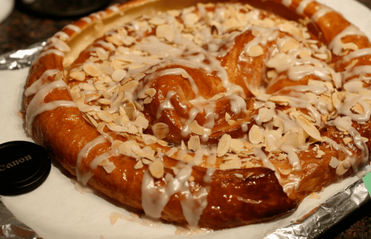 Prepare Low-Fodmap Base Dough For Kringle:

In a medium mixing bowl, place low-FODMAP flour, butter, xanthan gum (if not added to your flour choice), sugar, and salt
Blend together using a pastry knife, fork or hands until the mixture crumbles.
Don't worry if the yeast clumps slightly, it will be OK
Add milk mixture to dry mixture
The dough will be sticky if you continue to blend it.
Place dough on large piece of plastic wrap (at least 11 x 17 inches big) and flatten dough into a round circle
Wrap dough in the plastic wrap and refrigerate for 1 hour (or longer)
How to Make Kringle Icing

Mix the almond extract and butter with the most of the milk (but not the whole amount) in a small mixing bowl. (Hold a tablespoon of the milk back, in case you need to adjust the consistency.)
Whisk the ingredients together until smooth. If the icing is too thick, add the remaining milk and whisk. It should be drizzle-able.
Sprinkles, toasted almonds or sprinkles can be added to the cooled and baked Kringles.
What'S The Story On O&H Danish Bakery?

Family-owned since 1949, O&H Danish Bakery has been supplying traditional Danish kringles to Trader Joe's for as long as I can remember. Baked from scratch in the midwestern United States, these kringles are some of the most popular in the country…
Olesen, the family that founded the bakery, owns and operates the business. The bakery today is run by the granddaughters of Christian Olesen, the baker who started it all. Made with a variety of ingredients from around the world, each O&H Kringle weighs well over a pound.