Amplifi Alien Review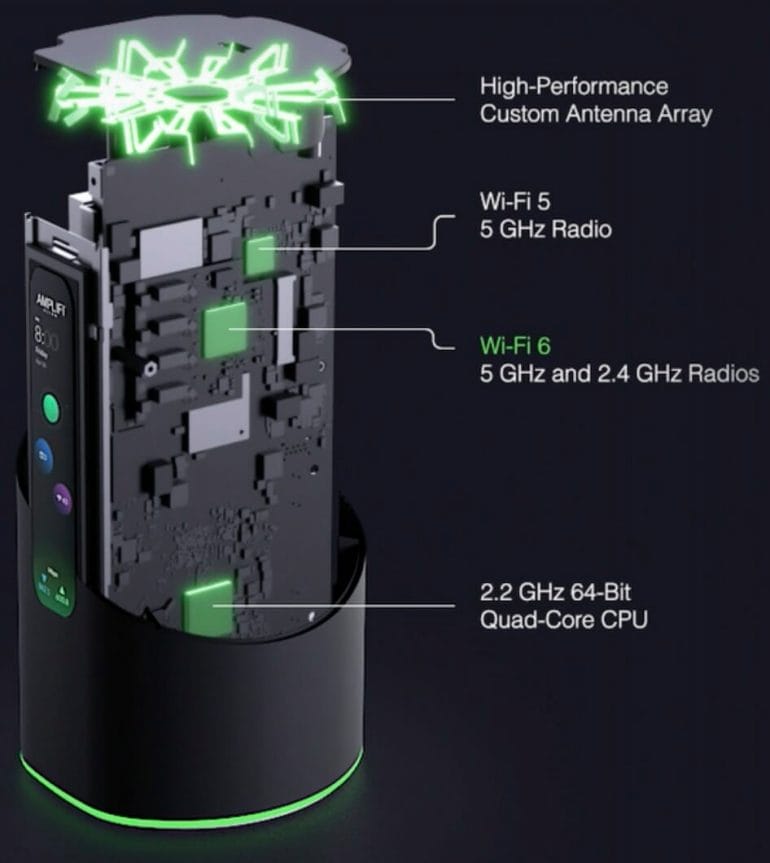 Amplifi Alien (Wi-Fi 6 Router) Review And Breakdown

No products found.
AmpliFi Alien mesh router supports Wi-Fi 6 technology. This router is compatible backwards with all other routers using the 802.1 1 standard. It is also a mesh-ready router with tri-band support for Wi-Fi 6, which includes a 5GHz and 2.4 GHz bands, as well as an additional 5GHz band. It supports the 20, 40 and 80 MHz channel width but does not support the 160 MHz channel width.
The router is slightly larger than the average router at 1.2 kgs, making it quite sturdy. The router is equipped with a 64-bit, 2.2GHz central processing unit which optimizes performance. Additionally, it comes with a touchscreen that indicates the router status and helps you carry out ISP speed tests. Through the AmpliFi mobile app, you are able to manage and control your home network. You can also repair minor issues on your router via the mobile app when there are connectivity problems. You can access the website user interface, which allows you to manage your home network and make small repairs.
The AmpliFi Alien Wi-Fi 6 router has four Gigabit LAN ports and one Gigabit WAN port. It does not include a multigig network port. Also, it does not support link aggregation and does not come with any USB port so you may not be able to add your storage devices. It supports bridge mode, which is a plus.
What we liked
It has fast throughput speeds and excellent range coverage
You can route web traffic to it from any location with the special Teleport feature
It has a modern and elegant design
It is easy to setup and install
It has an ad blocking feature
We didn't love these things
If you enjoyed this, you might like

Google Nest Wifi Review

The second 5 GHz band can only support Wi-Fi 5
It does not come with a multi-gig network port
It does not support 160 MHz channels
View Price on Amazon
AmpliFi Alien Wi-Fi 6, a router with a modern, elegant design, adds to the beauty of your home. It is cylindrical in shape with a flattened top. Its elegance is identified in the touchscreen interface at the front which provides information on your network traffic, the status of your network and it also allows you to perform internet speed tests without having to use the mobile app Also, it has a fancy ring of LED lights closer to the bottoms. The LED lights are used to show the status of your AmpliFi Alien WiFi 6 router's power and internet connection. This LCD interface reminds you and lets you know if your router needs a firmware upgrade.
The back of AmpliFi Alien 6 router has a switch with four Gigabit Ethernet ports. This allows you to make wired connections. The router's bottom has a power and reset button. It measures approximately 12.1×5.6×5.5×5.5 inches and weighs 5.9lbs.
The AmpliFi Alien Wi-Fi 6 router comes as a tri-band; that is a single 2.4 GHz band, a 5 GHz band that supports Wi-Fi 6 and another 5 GHz band that supports Wi-Fi 5. It has throughput speeds of 7,685 Mbps which has been distributed as 1,148 Mbps on the 2.4 GHz band, 4,804 Mbps on the first 5 GHz band and 1,733 Mbps on the second 5 GHz band that supports Wi-Fi 5.
AmpliFi Alien WiFi 6 router doesn't come with a multigig network port. This means that your wired connections will only be able to receive speeds up to 1,000 Mb/s. The AmpliFi Alien 6 router uses MU-MIMO technology to allow multiple devices to receive and transmit data simultaneously. The router's beamforming technology directs the Wi-Fi signal to all connected devices, resulting in better network performance.
The device is equipped with Orthogonal Frequency Division Multiple Access technology, which aids in communication between the frequency bands. It also eliminates interference from wireless networks. It performance is strengthened by a 2.2 GHz 64-bit quad-core central processing unit.
AmpliFi Alien Wi Fi 6 router has a unique feature: the AmpliFi Teleport. This allows you to direct your internet traffic through your home network, even while you're on the move. You can also access VPN services from anywhere you connect to public Wi-Fi hotspots.
AmpliFi Alien Wi-Fi 6 has been created to cover an area of approximately 2700 sq. feet. It is featured with high performing internal antennas that allow it to extend the signal across your home. You can also purchase multiple AmpliFi Alien Wi Fi 6 routers to increase your Wi-Fi coverage. They join together creating a stronger mesh network.
Amplifi Alien Review: Configuration

You will see an alert to install new firmware at the top. Tap to install it. There are also icons for performance (including overall throughput), the guest network and the ability to use AmpliFi's unique Teleport app that secures communications using a Virtual Private Network (VPN). I used it with my iPad from nearly 100 miles from my home, although its speed dropped from over 200Mbps to 15.4Mbps.
The app includes a screen that displays the devices connected to the network and the speed at which they are connecting. It also has a Diagnostic page, where the app can check the WAN connection and determine the DNS Connection and IP address. Remote management of the network is possible for those who have Ubiquiti account.
If you tap on the satellite's icon you end up on a very useful configuration page. Its signal strength meter can help get the best placement for the MeshPoint node.
I dug deeper and was able to change the band the network's back-haul channel uses for communications from the satellite to the router, choosing the higher performing 5GHz instead of the 2.4 GHz band for greater range. You can pause data.
The AmpliFi Alien offers fewer configuration options than other mesh products. The Settings screen has several customization choices in a long narrow column but I had to set the zoom to 33 percent to take them all in. The choices range from automatically switching between 2.4- and 5 GHz back-haul bands to setting up 160MHz wide data channels to establishing Quality of Service (QOS) priorities.
System Info shows which users are online. You can find information about the signal strength and speeds of each individual. A network map is displayed when you click on the Topology tab.
It can setup band steering for data transfer over the 5GHz or 2.4GHz bands. However, it is not as customizable as other Wi-Fi 6 devices. It has no extra security software, like Netgear's Armor, Asus's AIProtection or TP-Link's HomeShield.
If you were a fan of this, you might also appreciate

Netgear Orbi Mini 2-Pack Ac2200 Review

If this was to your liking, you might also be interested in

Orbi Ax4200 Review

The hardware comes with a one-year warranty along with lifetime tech support, which is a step down from Asus's two years of protection. It's still better than Netgear's 90-day support policy.
While the mesh kit lacks a printable manual, there's lots of individual articles on how to do specific things, like improving Wi-Fi stability and reconnecting MeshPoints.
The Bottom Line

Alien was on my "to-do" list from the middle of last year. It is Amplifi's first WiFi 6 platform and we have high expectations for it. I was able to get the Alien from my BestBuy after a few thunderstorms.
Off the top, Amplifi doesn't divulge detailed information about the hardware platform itself; we simply have mention of a quad-core SoC at 2.2GHz; digging further, I have found out this is a Qualcomm platform using the IPQ8074 SoC, and FCC images suggest 1GB of DDR3 memory and 256MB of NAND flash are onboard as well.
Alien offers a tri-band solution. It has a single band at 2.4GHz operating at 1148MBps, and two bands at 5GHz at high and low. Low operates at 1733Mbps but is disabled by software. High band provides 4804Mbps. Wired connectivity allows for a single gigabit network, four ports on the LAN and is also set up to gigabit.
MSRP for the Amplifi Alien comes in at $379.99 for the router alone. You can pick up the mesh kit for $699. The warranty is for one year.
The packaging experience is of higher quality, as anyone would expect from Ubiquiti. You will find an image of the router on the front.
You will find more information about your router on the back, such as performance specifications and contents.
Included with the Alien, we have the power cord and ethernet cable.
The exterior of the Alien is a silicon material, Ubiquiti logo up top and color screen taking up the front real estate.
On the back, we have the four gigabit LAN ports and ventilation for the router.
You will find the power input as well as the WAN port at its bottom. You will also find the reset button under your router.
When you turn on your router the screen and the LED ring at the bottom come to life. Both are controllable in software.
Setup is run through the Amplifi app.
Initial setup will ask for the password and SSID you prefer.
A few moments later, the setup will be complete and leave you on the main menu above. From here, you can run a speed test at the bottom or select the Alien router for more settings.
Into the settings, you can change everything from the device name to time zone and time format. You will find admin and volume controls at the bottom.
Internet options include network type at the top, followed by options for UPNP, VLAN, and IPV6.
Moving to wireless settings, we have two sliders here; one for sharing your SSID across the 2.4GHz and 5GHz High band and the other to enable or disable the second 5GHz band.
Closer to the bottom, we have further options for creating secondary SSIDs for each band along with band steering or router steering if you are using this as a mesh platform.
Radio options include the ability to choose your channel and bandwidth, with the latest update support for 160MHz is available for the Wi-Fi 6 bands.
You can view real-time throughput and results from speed tests at the top of the performance tab.
Amplifi Alien has a huge deal on the Teleport App. This allows you to connect from any location to your home network.
You can view all connected devices and have the option to name them or pause them individually.
Tests showed no problems with gigabit Ethernet ports and WAN. Between 952.74Mbps and 952.74Mbps was the throughput.
Our new NUC 11 Extreme was used as our network testing machine. We cleared the wireless throughput charts and retested Amplifi HD. Then we turned the Alien on for its performance. In the end, with 160MHz channels, we saw 826.58Mbps from the high band and 471Mbps from the low band 5GHz. 2.4GHz gave us 172MBps.
For those that want a set it and forget it product, the Alien is going to be in your wheelhouse; setup lasts a few minutes at best. After setup is completed, your platform will be rock solid. It was able to handle my stress test of 256 clients quickly and has been stable in my home ever since.
The Alien is a great option for enthusiasts who like to build things. The Alien can be used to create multiple SSIDs and control wireless channels. Band and router steering can be turned off if you want to manually control device connectivity, and there are simple QoS controls that allow you to prioritize devices. Additionally, there is a WebGUI at the router's IP that will give you further controls that include the ability to enable 160MHz and DFS channels along with a DNS-based ad blocker.
The front panel of the router is just Amplifi showing off; it's a full touchscreen panel that offers all kinds of real-time analytics and allows you to move through menus to show it in full detail. You can run a speed test from the screen and control the LED and screen brightness as well.
Ubiquiti Amplifi Alien Review: Setup

You're familiar with the ease of setting up AmpliFi products and how easy it is to use them. No exception applies to the Alien router. The AmpliFi mobile app on my iPhone was launched once I plugged the device in, connected it to my Comcast cable modem via Ethernet, and turned it on. The app asked for authorization to connect to and find the AmpliFi Alien via Bluetooth a little later.
After we acknowledged the request, it was prompted to provide my password and Wi-Fi network name (SSID). It was there. As I had reviewed AmpliFi previously, it was already an account. You will need an account to configure your Alien.
The mesh point and AmpliFi Alien router are both cylindrical, rigid, black objects with yellow-green illumination rings around the base. The router has four Gigabit Ethernet ports on the back and one WAN port on the bottom. The built-in hanger on this router allows it to be mounted on a wall or set down on any flat surface. This interface allows you to monitor all AmpliFi amplifiers in homes.